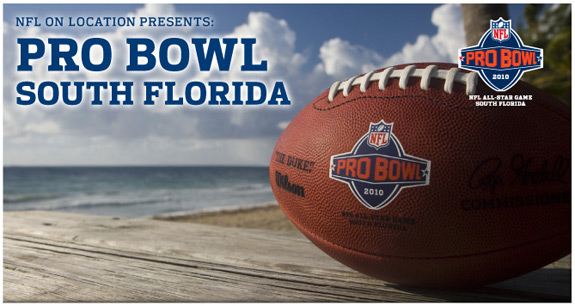 If you haven't noticed, we've moved all NFL Talk over to the new site: FWGNFL.com  and today, they have a post of the same name.   But here on Thoughts From a Fat White Guy I'm taking the same title, different direction.  You can find out why Jay and the crew hate the Pro Bowl by clicking here, but as for me.  Here's why I hate the Pro Bowl.
Unlike the All Star break in MLB, where the game is a time welcomed by players to regroup and recover, and by fans that can break up the monotony of the summer stretch, the NFL's Pro Bowl is stuck at the end of the season (or at least it was) in a time when no one really cares.  Before this year it was after the biggest night in sports, when it was about as relevant as, oh I don't know, this blog.  Which for those of you keeping score at home, is somewhere between Division 3 women's basketball and my entire football career.  Anyway, the players didn't care, and neither did the fans.  All we knew was that it was in Hawaii, it helped tourism there, and there was alot of flowery shirts on the sidelines.
This year, they've moved the game to Florida, put it before the Super Bowl and exempted all the players that are playing in the big game.  Not to mention that 5 of the 6 QBs selected won't be there, and we can watch the likes of David Garrard sling it.  I won't even go on the moral tangent and how this hurts tourism in Hawaii, but, well,  it does.  Being selected to the Pro Bowl is an honor, but it better serves players in contract negotiations that it does draw fans to yet another NFL weekend.  You can't suit up for an extra game, at the end of the season without it taxing the body.  Not to mention the rules on blitzing and all that crap, which makes the game about as much fun as watching paint dry. My vote is to make the Pro Bowl a fictional team, you know like the all decade or all century squads we see.  Its an honor to be selected, to be considered the best, and that's the end of it, problem solved.  The issue is, that football unlike the other major sports, only plays a handful games.