So the second challenge in Volvo's Biggest Fan of the Big East competition is upon us. "Pick five or more things you have to do when you return to your Alma Mater (places to see, best bars, best food, cool places on campus, etc."  Before I say another word, I need to set the record right out of the gate: UConn's Ballard Institute of Museum and Puppetry will NOT be making my list of must see things when returning to campus because it smells like kindergarten and I'm pretty sure the puppets come alive at night.

Deep breath. Now we can continue.
The beautiful people over at Volvo are being more than generous by putting together an alma-mater weekend visit where I get to return to UConn and enjoy the things we all love about college. Upon my February arrival in tropical Storrs, Connecticut, I'll be staying at the Nathan Hale Inn, checking out a UConn basketball game and will DEFINITELY hit up a lot of places I haven't been to since graduating in 2008.

Now let me set the scene for what I consider to be the best 24-hour return trip back on campus.
1.  I'll roll onto the scene driving a Volvo S60 while BUMPIN' Rihanna's "We Found Love" (Yeah, did I mention Volvo's also hooking me up with a ride for the weekend trip?). The windows will be down regardless of temperature and I'm going to give a lot of "what's up bro?" head nods throughout campus. It's what I do. Before even checking into the hotel, I'm stopping at Ted's Restaurant & Bar for a buffalo chicken grinder and a pitcher of their Big Blue Drink. Not sure what's in it, but I know it's delicious and good for you. Ted's is literally smaller than most Citgo Convenience Stores but has all the character a college bar could ask for. Good food, good people, and I can't think of a time where I left unsatisfied. They have great specials ($1 pitchers when you order a large pizza, seriously?!) and what's best is alums from all ages still go before sports games. It's got a neighborhood feel to it, which is my kind of place. Love it all.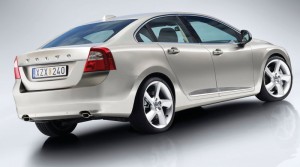 2. After a quick nappy back in the hotel, I'll be in the mood for some zerts. That's when I'll mosey on over to the UConn Dairy Bar for a two scoop sundae. Husky Tracks, Mint Chocolate Chip, whipped cream, hot fudge, and shots. I'll do the same routine I always do. Where I'll know exactly what I'm getting way before hand but still take a moment and pretend to be mulling over such a large variety of options to make it appear as though I'm not a regular or anything. The UConn Dairy Bar is a staple on campus and no matter when you go, there's a line. The DB makes their ice cream from Cows raised in the barn right on campus. Some find it gross, I find it to add character, not to mention very fresh. I can honestly say it's the best ice cream I've ever had. Yes it's that good and yes it's better than all other Big East ice cream spots. Taste test, anytime, anywhere.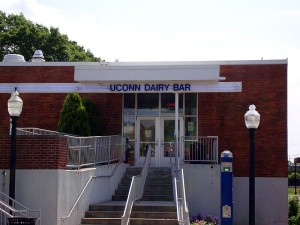 3. Then to burn off some of the thousands of calories I would've consumed at this point, I'll probably try to sneak inside the Greer Fieldhouse for some intramural action. I LOVED intramural sports at UConn. I refereed. I kept score. I played. I watched. I was all about it. UConn has a great Recreational Sports program for its students on campus. It's always competitive and makes for some great memories. What makes the field house extra special to me as a die-hard UConn fan, is how the little old Greer Fieldhouse used to be called home for UConn basketball. It shows how far both the Men's and Women's programs have come in just a few decades. My dad, also an alum, still talks about buying a ticket for $1 and seeing UConn get trounced on by the likes of Holy Cross and Yale. It made playing a co-ed soccer game on a Tuesday night have all the more meaning and really lets you appreciate how lucky we are to have such elite basketball programs.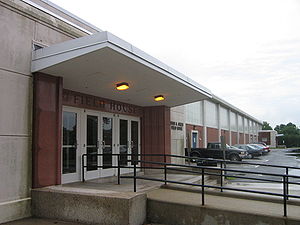 4. Jonathan, the Husky Dog Statue. Right next to Greer Fieldhouse stands this guy. Jonathan the Husky is probably the #1 picture parents crave after their son or daughter graduates from UConn. The line takes forever but it's beyond worth the wait. Some people attempt to jump on for a ride, some kiss his checks and some just stand with a smile. As a true Husky fan, I can't walk by without a quick pat on Johnny boy's head.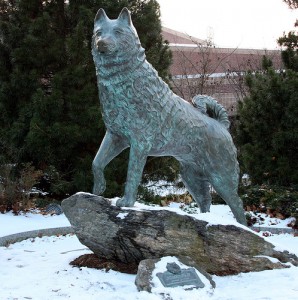 5. Time to get some swag at the UConn Co-Op, Husky Shop. This is the best place to go for all UConn apparel. They have everything UConn here. Sweatshirts, game jerseys, hats, umbrellas, oven mitts (what's up mom?), golf tees, tailgating gear, etc. Whenever I'm back on campus, stopping at the Co-Op is a must and usually I can't leave without spending at least $50 on something. I've also been known to complete my Christmas shopping here. (alum discount!)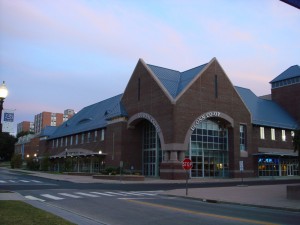 GAME TIME-Jim Calhoun yells, folds his arms, and then stares at his bench coaches for answers. Jeremy Lamb scores 26, Huskies slaughter their competition, I continue my visit.
6. Student Union for dinner. Commonly known as "The Union" or just "The U," UConn's state of the art Student Union Center is awesome. There are meeting rooms, chill rooms, a movie theater, a game center, a restaurant, and a food court filled with people all night and day. My favorite part however, is getting a Burrito in the Mexican food line. They PACK these burritos to the max and it leaves you stuffed for hours. I've heard a terrible rumor they've gotten stingy with the amount they put in the burritos, therefore all the more reason for a visit so I can see for myself. For their sake, I hope the rumor is false or things might get REAL.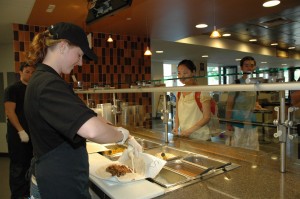 7. Memorial Stadium. UConn's old football stadium. It's basically the size of most Texas High School stadiums and like the Greer Fieldhouse, Memorial Stadium represents how far UConn's football program has come in just 10 years. I've been known to jog the stairs for an early morning workout here (okay ilike 3 times ever but still) and spend hours kicking 34 yard field goals just in case coach calls me for a tryout. Your move Paul Pasqualoni.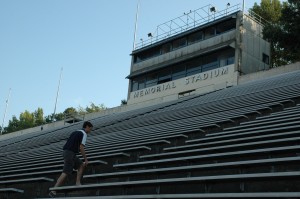 8. Huskies. Probably the most popular bar on campus. Infamously known for its "Thursday Night Nickel Night," Huskies is where it's at if you're looking to get after it. Nickel drinks before 9pm, then the DJ comes in and people just get weird. Cell phones in toilets, girls crying over sorority drama, bros in packs grinding up EVERYWHERE, screaming bartenders, the buffest of bouncers and people packed in like sardines. God, I miss this place.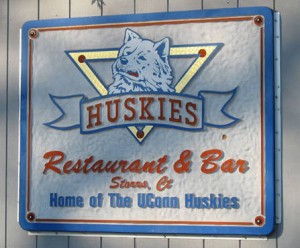 9. After Huskies has last call and you can avoid a drink being thrown on you or a fight leaving the parking lot, a lot of people would get pizza on their walk home. Since it's on the way back to my hotel, I'm getting a Buffer Zone at DP Dough. It truly is the best/worst late night Calzone anyone can ask for. The buffer zone is stuffed with buffalo chicken chunks, blue cheese, onions, among other unhealthy items. Oh and they deliver. Oh and it's only $5. It's fantastic and horrible all at the same time.

10- I'll likely wake up in a bath robe 10 lbs heavier. Time to warm up the Volvo S60 and head back home. Phil Collins "One More Night" will be on repeat the entire ride back just because I feel sorry for myself. Single tear streaming down my face as I leave the best University in all the Big East. Notre Dame doesn't count. What is this partially committed business? GO HUSKIES!
Vote for Chris in his quest to be crowned Volvo's "Biggest Fan of the Big East!" He needs our support. Vote here.