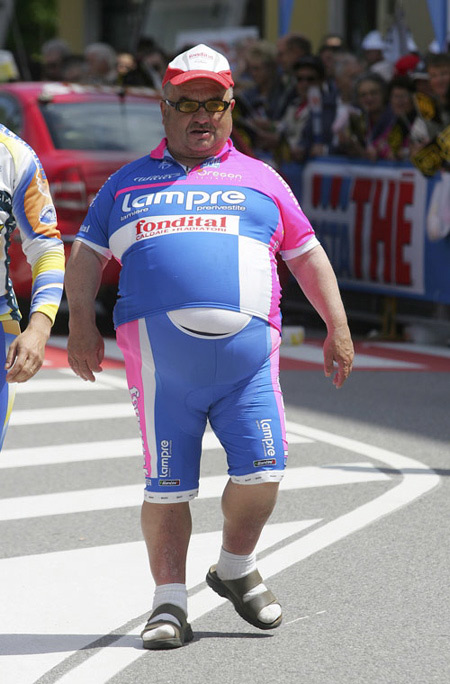 Why not run a 3.5-mile race in 90% humidity with a gang bang of over 9,000 sweaty co-workers ?
Last night I laced up my Shox for the Chase Corporate Challenge, or as Upstate NY claims, the "region's biggest company party".  Pretty sure that means the 'region's biggest YMCA locker room nightmare.'  Everyone orders those obnoxious neon t-shirts with nicknames that no one gets like "Juggernaut" or "Bean Counter".  People who take themselves way too seriously and sit behind a desk for a reason.  Energy jelly beans.  Fanny packs.  Knee socks.  And on my way to the starting line, I was flocked by a pack of old dudes – their balls suctioned in spandex.  Instant seizure.  P.S. We're not running for Olympic gold here.  Keep your milliseconds and your dignity.
My teenage brother is in the throws of college applications.  After dodging the pork swords and FUPAs throughout the Challenge, I immediately went home to stamp/seal about 20 of my bro's recruitment DVDs to be overnighted.  Then sorted his wish list of universities.  On an Excel file.  By NCAA division.
Yes that was the last Corporate Challenge for me.  No I will not let my brother go without signing a major league contract.
Here's why:   I know all you former athletes are feeling me.   Even the benchwarmers can say that we held ourselves to a higher caliber of athletic prowess than the fleet feet-ers.  But when graduation came around…most of us, minus a select talented few, traded in the jerseys of competitive sports for hand-made beer olympics t-shirts, Kan Jam tournaments, and company softball teams.  Now I blog…and tone regularly on the YMCA ellipticals.  It's the circle of life.
While I ruined my knees from sprinting suicides on the court, you jogged in a straight line for hours.  Why should I be subjected to your has-been cult trying to rub your 'sport' in my face?  I sat through too many of those No Tolerance assemblies to now be damned by the cross country team's glory events like Corporate Challenges and turkey trot 5ks that are 'fun for the whole family'.  Save your freak show and shattered dreams for the locker room.  Sorry.  That I'm not sorry.