I normally wait until the Super Bowl is over to start paying attention to College Basketball.
By February you are knee deep in conference play, creeping towards the Big East Tournament, and the madness of March is on the horizon. This year it has taken a little longer than usually but with a handful of quality games in TV lately (Ohio State losing its bid for a perfect season against Wisconsin for one) I am finally coming around.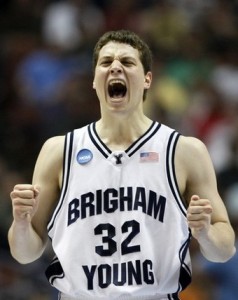 The timing gives me a chance to catch #7 BYU travel to #4 San Diego State today.
The casual fan has probably never seen Jimmer (sounds like some sort of complicated sex trick) Fredette play. Well here's your chance. Not only that but he is playing on the road at San Diego State. Otherwise known as The Show.
The Show may not have the cache of the Cameron Crazies but I assure you they are worth the price of admission. Or in this case, turning on CBS from my couch. They are right on top of the court. They are loud, smart fans who know how to impact a game. Last year against BYU on fan made a sign that read;
"Which wife gave you mono?"
The sign was aimed at Fredette, a Mormon who had caught mononucleosis. It didn't exactly slow Jimmer down, he torched the Aztecs for 33 in a Cougar win, but it gets points for being creative and borderline tasteless. Two of my favorite things.
The Show dress up like Gecko's, bananas, elves, and they wave giant signs. It is like a circus, but it is deafening, and gives them one of the best home court advantages in college basketball.
Last year when BYU was finishing of San Diego State, The Show chanted "You're Still Mormon!"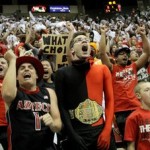 Mormon or not, they came into your house and shit in your shower.
The best player in the country on the road against a fired up Show, who are desperate to avenge last year's loss, and on top of all that the winner puts themselves in line for a number one seed in March.
Do yourself a favor and tune in.