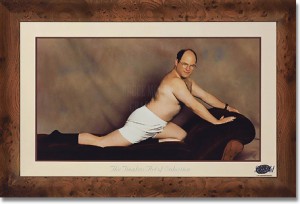 7:15 #3 UCONN Vs #2 SDST
Normally, when a team is completely reliant on one player (see Lebron's Cavs), they fizzle out on the big stage. These great players need a nucleus of other good to great players in order to survive. Look at Friends and Seinfeld as examples.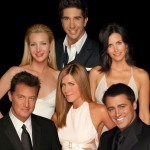 Chandler, Joey, Ross, Monica, Phoebe and Rachel managed to capture lightening in a bottle and keep it there for ten years. That is almost unheard of today. But when they went out on their own, Jennifer Aniston being the Scottie Pippen of the group having achieved a modicum of success once the band broke up, they didn't have what it took to carry the load on their own.
Seinfeld, a perfect example for comic synergy, failed to produce any quality spinoffs for Jerry, George, Elaine or Kramer. All of them were good at what they were doing before the show. The collaboration elevated their games to unprecedented heights, and they were never able to get back to that level after the buzzer sounded.
In Kemba Walker we seem to have a rare talent, capable of carrying the whole show on his own.
Imagine for a second that you gave Jason Alexander (the strongest actor on Seinfeld hands down) Joe Piscopoe, Paula Poundstone, and Pauly Shore instead of Seinfeld, Julia Louise Dreyfus, and Michael Richards. Do you think he would be strong enough to carry that show? No? Well that is basically what Kemba Walker is doing. With an overachieving cast, each capable of 2-3 minute stretches of quality work at most, after that things get a little uncomfortable, he destroyed the Big East Tournament and now has the Huskies one win away from the Elite Eight.
Watching Walker play over the last few weeks has turned me into a fan. Normally such a huge burden would sit heavily on a player's shoulders. They would sulk when their teammates let them down, and stomp demonstratively down the court when they don't get the ball (again see Lebron's Cavs). Not Walker. He seems to love playing basketball and seems to love his teammates. This love has elevated his supporting cast the way that fear elevated Michael Jordan's.
Since my bracket is fubar, I am rooting for Kemba Walker and UCONN to take out the #2 Aztecs.
Half Assed Prediction: UCONN 68 SDST 62
7:27 #3 BYU Vs #2 Florida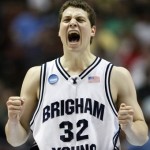 Jimmer Fredette, another one man show, is a scoring machine who went to prison voluntarily to improve his game. It's hard not to like the guy, even if he doesn't pretend to care about anything other than scoring. Unfortunately for Jimmer, who has been on fire in the tournament so far, this will be the game where BYU really misses Brandon Davies(click here for story). He is an athletic big man that might have helped the Cougars combat the Gator front line they will face tonight. The Gators have a number of ways to beat you, and against the undermanned Cougars I expect them to go inside early and often.
The Cougars impressed me by beating a quality Gonzaga team but I don't think they have enough to trade punches with a bigger, faster, and stronger Florida team for 40 minutes.
Half Assed Prediction: FLORIDA 67 BYU 62
9:45 #5 Arizona Vs #1 Duke
Duke showed that it was vulnerable to a team that cam spread the floor and make 3's when they came within an inch of losing to Michigan. This could make it hard to content with an athletic Wildcat team who have a legitimate super star in F Derrick Williams. The Cats will need to get hot from the three early on however, if they want to hang with Duke.
One of the best teams in the tournament getting their best player back just before RD 1 seems unfair. But it is a reality that Arizona and Coach Sean Miller will have to contend with.
Duke plays solid man to man defense and I think Kyle Singler can do enough to slow Derrick Williams down. Williams is still going to get his points but I think he will get worn down by Duke's pressure D. Having irving available means that Duke can play Singler at the 4, where he can wreak havoc stretching the D with his inside/outside game.
I expect Arizona to come out fired up and keep it close for a half. In the end Duke is too good and pulls away early in the second half.
Half Assed Prediction: DUKE 74 ARIZONA 59
9:57 #8 Butler Vs #4 Wisconsin
This is a matchup of fundamentally solid teams that beat you the same way. They play great defense, they rebound, and they don't turn the ball over. It's not flashy but it has proved effective for both. Butler is making its second straight deep run in the Tournament and came within inches of a national title last year. The Badgers are making their 5th trip to the Sweet 16 in the last 11 years.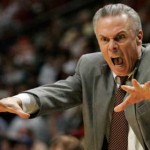 Since neither team beats themselves, this game will come down to whoever can execute better. I think that gives the edge to the Badgers. Bo Ryan's team is scary efficient on the offensive end, especially when they get it going from down town.  Ryan is a scary dude and his team is one of the best FT shooting teams in the country, a stat that can't be underestimated in a close game.  
The Duke/Arizona matchup has more sex appeal and will probably be more entertaining for the first 35 minutes.
So go ahead, ignore the action down in New Orleans until Duke has wrapped up a trip to the Elite 8. But make sure you tune in for the last few minutes because this one is a lock to go down to the wire.
Wish: Gus Johnson gets assigned to this one.
Half Assed Prediction: WISCONSIN 60 BUTLER 59
Check in tomorrow for a preview of Friday's matchups.
——Corey cjmalo15@gmail.com