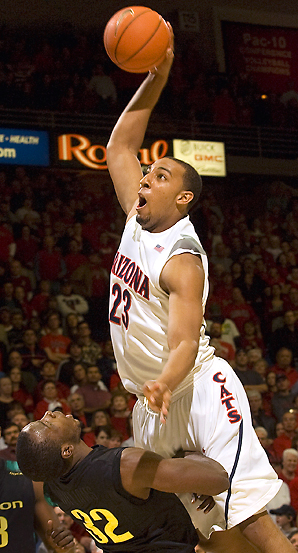 I grabbed a bite to eat last night with my friend Jon, who is a big Arizona fan, before the games tipped off.  He tried to sell me on the Wildcats chances against a heavily (-9.5) Duke team
"We shoot the three better than anyone in the country.  Plus we won the Pac 10 and Derrick Williams is a beast."  All valid points.
"No shot."  Then I explained, much like I did in yesterday's piece Seinfeld, Prison Practice and Other Sweet 16 Notes, why Duke, with Kyrie Irvin back at the point, was too good.  "Come on man, you're just being a homer."
Jon insisted I was wrong.  And I was.  Conventional wisdom, as well as years of watching sports told me that Duke was a virtual lock, unless all their players decided to pull a Donaghy.
Since conventional wisdom let me down, and let me down hard, I present a completely arbitrary look at tonight's Sweet 16 match ups.
7:15 #2 UNC Vs #11 Marquette
My friend Doug and I commented last night how nearly all the guys in our generation grew up rooting for UNC.  Not because of the storied history, or the never ending stream of super star players.  We were fans because they had the coolest apparel.  They had the great hats with a miniature foot on the back that featured a dark black tar spot on the heel.  Something about that color just appeals to adolescent guys, especially ones who grow up with out a serious allegiance to a particular university.  Which most of us don't develop until actually attend college.
That was back in the day, when I was young.  I'm not a kid anymore.  I think UNC sucks on defense, they gave up 80+ to Long Island and Washington, and they turn the ball over too much.  Maybe I'm bitter because I picked Washington and the Huskies got hosed Tommy!
Arbitrary Pick: Marquette 79 UNC 76
7:27 #1 Kansas Vs #12 Richmond
My good friend Amanda, from high school lives in Richmond, has since high school.  It was in that fair city, while visiting her in college, that I first discovered Pho, which is Vietnamese noodle soup where raw pieces of beef cook in the broth.  It is the best thing when you are hung over, sick, or looking for a good meal under $10.  I actually just had Pho twenty minutes ago.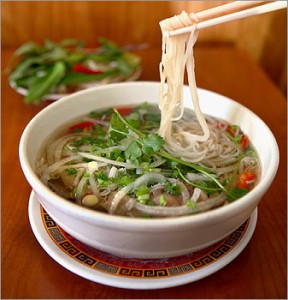 Unfortunately for the Spiders, soup ain't crack, cause thats what I would need to be smoking to pick Richmond over Kansas.
Arbitrary Pick: Kansas 73 Richmond 63
9:45 #4 Kentucky Vs #1 Ohio State
I don't particularly like Ohio State.  I really, really don't like THE Ohio State University.  Imagine if everyone spoke like this.  I am THE Corey Maloney.  I am writing this on THE HP laptop and after eating THE big bowl of spicy noodle soup I would like to take THE biggest dump all over THE Ohio State Buckeyes mascot.
Actually that was kind of fun.
Kentucky freshman G Brandon Knight is the kind of explosive player who, if he gets it going early, could keep the Wildcats in this one.  Ohio State is the most balanced team in the country so unless they are scarred by watching me defecate all over their beloved mascot, I expect them to take care of business tonight.
Arbitrary Pick: Ohio State 68 Kentucky 60
9:57 #10 Florida State Vs #11 VCU
You are probably thinking that I blew it by using the only connection I had to Richmond, VA in my discussion of Richmond/Kansas.  Well you would be right.
Lucky for both of us I can talk about Florida State.
The Seminoles have a balanced attack, featuring wildly underrated signal caller Christian Ponder who ca hurt you with his arm and his legs.  Their defense…wait…what do you mean basketball?
You're telling me that Florida State BASKETBALL is playing VCU tonight with a chance to make the Elite 8?  Ok buddy.  Whatever you say.  The good people of Richmond could have used that crack a few paragraphs ago.
Since I can't reasonably be expected to analyze Florida State Basketball, I'm going to flip a coin on this one.
Heads.  VCU 71 Florida State 63
Hope everyone enjoys the games tonight.  Best of luck to anyone's who's bracket doesn't have more holes in it than a Jim Tressel explanation on alleged misconduct.
—-Corey cjmalo15@gmail.com