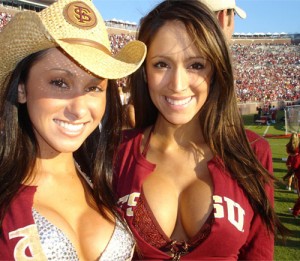 Today is the first day of the college football season.  Sit back, start your weekend early, and let that school spirit wash over you, like a proverbial golden shower—minus the next day's shame and soul searching.
Here are the three game's I'm juiced-up over;
(14) Oregon at (16) Boise State-
Nothing says competitive game like the two ugliest jerseys in college football smashing it out on Smurf Turf. But seriously,  both these teams are situated in the middle of the polls, which is a virtual abyss of parity–which makes for great football.  They are big and strong upfront, not to mention all the PAC-10 implications;  a Boise State loss would effectively knock them out of BCS contention, a early game with such dire implications is awesome, I'll be watching this one tonight.
UConn at Ohio
Obviously I'm going to tune in for this; other "big time" Saturday games be damned.  UConn has a lot to prove— a new offense, a new quarterback with a chip on his shoulder, not to mention replacing the nation's leading rusher.  But even more so, after all the strides UConn has made the past 5 seasons, the respect still isn't there (ranked again in the bottom of the Big East).  In a perfect world it all comes together in the season opener—the offense flourishes, the bumps in the road smoothed out by strong play on defense. Then again, playing on the road hasn't been a strong suit for the Huskies, and they haven't opened on the road in five a few years.  I believe in the white and blue so in a Lou Holtz-esque moment, I'm picking UConn.
Cincinnati at Rutgers (Monday Night)
On one hand you got an excellent QB for the Bearcats in Pike, who despite injuries (well done, Cody Brown) was a strong player.  Pike has enough athletic ability to get him out of some sticky situations behind an inexperienced O-Line, not to mention they are coming off a BCS bowl birth.  On the other hand, you have Rutgers, (those hair-gel'd-Jersey-ites) who bounced back late last season, and carried that momentum into the off season.  As much as I dislike Schiano (and as much as he looks like Paul Lassiter), he does a great job getting his players prepped for game day (read: not a lot of mental mistakes).  Some experts are picking Rutgers as the team to beat in the Big East. I think on the field the talent level is going to be just about equal (parity, parity, parity)–but the deciding factor is going to be that Cincy has to travel to Piscataway.  Rutgers stadium is a loud, rough environment—and a tough place to play.  I see Rutgers stealing this one, and Brian Kelly's head exploding on the sideline.