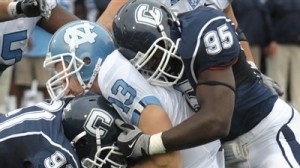 Ohio State playing USC. Michigan and Notre Dame. UConn and, well, nobody.
There is nothing I would do over in my collegiate football experience, but my need for a great rival is unfulfilled. Often in debates amongst coworkers, I am considered the definitive answer on all things college football, so when the age-old question of the best rivalry in college was thrown out (it's Army-Navy, by the way), someone asked, "Who is UConn's great rival?"
I did everything short of cowering in the corner and crying myself to sleep.
I hesitated, "Well, there was almost Boston College. Aha! Rutgers!" That's right, our football team doesn't have a great rivalry.