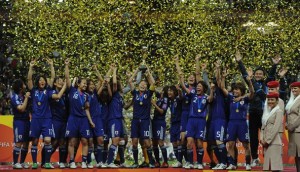 The Women's World Cup Final between the United States and Japan was the biggest sporting event in history.
The history of Twitter that is.
The game, which was exciting enough for me to pay attention for about seventy five more minutes than I had previously spent watching women's sports, drew 7,196 tweets per second. I didn't send out a single tweet, and now I feel sad that I missed out on the chance to be a part of history. World Cup's come around every four years, but to be a part of something really special, like the most people to arbitrarily share one hundred and forty characters worth of their thoughts during one event?
That's a once in a life time opportunity.
**************************
Jimmie Johnson called out his pit crew after Sunday's Nascar race.
Really Jimmie? The guys that make sure your wheels don't fall off at a hundred fifty miles an hour, give you the right kind of fuel so your car doesn't explode, and who basically hold your life in their hands? Your life is in their hands dude!
Probably not the best life decision.
You don't tell your employees they suck at their job until you are sure that you have someone else on deck who can do it better.
Would you tell your wife that she was awful in bed, a terrible cook, mean to puppies, and a general bore to be around if you were planning on needing her to help you next weekend?
Feminists didn't like that last line did they? Assuming that it implies wives are somehow employees of their husbands aren't they? Well is there anyone an astronaut counts on more than the guys at mission control? Any one he has to trust more in order to succeed?
Do you think an astronaut would be calling out the guys in mission control before blasting off?
The point is that you need to be able to count on your pit crew, your wife, and if you happen to be an astronaut, like my mother, the guys in mission control.
I would buy everyone a tall boy of Budweiser and try to smooth things over before next weekend. People have accidents all the time Jimmie. All the time.
************************
Dwight Howard said a few months ago that he wanted to chart his own course to NBA greatness, he didn't want to follow Shaq, Lebron, or anyone else. Howard implored the people of Orlando to get behind his cause and turn the Magic into a championship caliber team.
I admired the sentiment, but questioned the truth behind that statement. We have all heard players (he who shall not be named on this page, for example), utter similar statements, pledging their allegiance to a team and a city.
After Howard said he was considering playing in China next year if the lockout affects the regular season, which it is going to, I realize that he meant it.
No NBA player has ever built his team into a championship contender by playing in China, so Howard truly is blazing a trail. I'm just not sure how the people he was rallying to follow him in Orlando are going to feel about traveling overseas.
***********************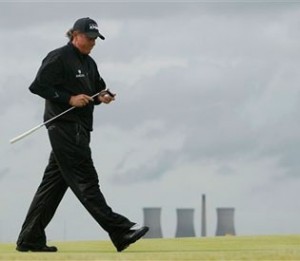 Congratulations to Darren Clarke on winning the Open Championship. He seems like one of the most genuine, down to earth guys on tour, and he survived some bizarre conditions, as well as a Sunday charge by Phil Mickelson to capture the Claret Jug.
That reminds me, congratulations to Mickelson for being exactly who we thought he used to be.
I could go on and on about Lefty but my girlfriend put it best. "I used to like him. But he's like the (Buffalo) Bills, and I only had room for one loser."
************************
We have officially reached the slow time in sports where ESPN starts running the sappy My Wish segments on Sportscenter.
They almost always feature some diseased youngster who is dealing with unimaginable hardships, but just wants to meet his favorite athlete. Right now, Landon Donovan is inviting a ginger who beat a rare form of cancer to come play soccer, its heart wrenching.
Unless you want to start your week sobbing into your Honey Nut Cheerios, change the channel, hit mute, or leave the room.
You've been warned.
——Corey