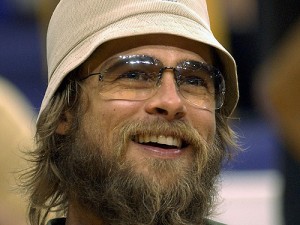 A quarter of the NFL season is already in the books. That means it's time to roll out a power rankings edition of the Weekend Recap. Last week I overheard a debate over whether Brad Pitt is a 'movie star', so I've decided, pretty much arbitrarily, to factor a list of his movies into the rankings.
31 and 32. The Mexican.
A horrible, nearly unwatchable movie. Pretty much sums up the Rams and the Dolphins at this point. The Rams because you want them to be good, you really do but they fall short every time, and the Dolphins because Pitt's performance reminds me of Chad Henne. It was bad, but occasionally you forgot how bad, because it was Bradd Pitt.
30. Thelma and Louise.
Not a horrible movie, just one that no guy is going to watch. Kind of like Viking's QB Donovan McNabb is not a horrible QB, he is just one that will never lead your team to a title. Also, Adrian Peterson will be thinking about driving off of a cliff at the end of a 2-14 season.
29. Troy.
The Indianapolis Colts are bad. Peyton Manning's absence makes them worse, but much like Troy, even though we all have faith in Pitt to make a good movie, nothing could have saved either ship from sinking.
28. The Assassination of Jesse James By The Coward Robert Ford.
The Broncos, and their fans, hopes for success are Jesse James, and Josh McDaniels is Robert Ford.
27. The Devil's Own.
The Chiefs, much like Harrison Ford, have an assassin in their house (Jamal Charles' injury), and once they discovered it, everything went to shit.
26. Spy Games.
Jacksonville RB Maurice Jones Drew sees his future, and any hopes of a playoff run, locked up tighter than Pitt's character Tom Bishop was in a Chinese Prison. Does Blaine Gabbard remind anyone of Robert Redford? Me either.
25. The Curious Case Of Benjamin Button.
Arizona Cardinals WR Larry Fitzgerald probably feels like he is going in the wrong direction with a team that keeps getting younger, and worse, and that no one can seem to explain why.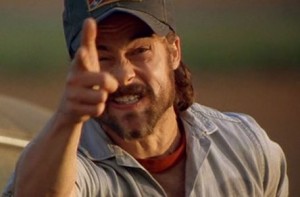 24. Kalifornia
Pete Carroll got released from the scandal and took over the Seattle Seahawks. At first it seems like he is harmless, much like Early, Pitt's character in the movie, but as time goes on he will prove to be more dangerous than a recently paroled serial killer.
23. Mr. and Mrs. Smith
Carolina Panthers were hoping that bringing in a talented rookie QB would help turn the franchise around. Cam Newton, like Pitt and Angelina Jolie, has done his job and created a buzz. But the Panthers still suck.
22. Burn After Reading.
All the pieces were in place for greatness. The Coen Brothers. Pitt. George Clooney. Frances McDormand. John Malkovich. In the end they couldn't overcome a poorly written story, and it failed. PHUCK YOU PHILADELPHIA EAGLES!
21. Oceans Twelve.
The Steelers assumed that trotting out the same cast of characters, a year older, a year more wear and tear, would earn them the same results. They can't protect the QB, and their defense is old. They are going to get exposed and it's going to make for a bad movie, eh…season.
20. Babel
I'm too busy trying to figure out the Atlanta Falcons, and can't decide whether to like them or not.
19. Oceans Thirteen.
I thought this would be the year that the Cleveland Browns took the next step. Now it seems like they can't decide whether they want to make the leap, or go back to their old ways. They are smack dab in the middle of good and bad.
18. A River Runs Through It
The Cincinnati Bengals shouldn't be good. On paper it's a bad, boring team with little to no personality. But somehow, despite themselves, they are finding ways to win. Sort of like how a two hour movie about fly fishing and Presbyterians is sneaky entertaining.
17. Meet Joe Black
The Chicago Bears didn't realize when they traded for Jay Cutler, they were inviting the man who would kill their Championship dreams into their home. Now it's late.
16. Interview With A Vampire
I have to say, I'm impressed by what Harbaugh has done in San Francisco. They shouldn't be winning games. They really shouldn't. Especially when it means no shot at Andrew Luck next year. But they continue to win. They continue to compete. Harbaugh has taught a killer instinct, and a will to live, much like Pitt's character Louis learned from Lestat (Tom Cruise).
15. Seven Years In Tibet
The Tennessee Titans are winning games by throwing the ball? Hassleback like Heinrich Harrer, has found shelter in Tennessee and in return, is giving them something they have lacked.
14. Legends of The Fall
Oakland Raiders. They have a great offense, led by McFadden, and even if it came against the Patriots, Jason Cambell looked almost like an NFL QB on Sunday. These Raiders could erase the years of damage that Al Davis has done. Davis is like Susanna, and his impact on the Raiders family has taken years to overcome.
13. Ocean's Eleven.
With this many talented actors, it should be great. It feels like a huge letdown for it to be just good. It's like the Dallas Cowboys. 500 just ain't going to cut it.
12. The Tree Of Life
New York Giants make no sense to me, and it really bothers me.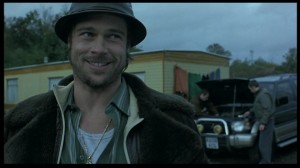 11. Snatch
Much is made about Rex Ryan, Sanchez, and the Jets D, but after last night, is there any question that Nick Mangold is their most important player? It's like how Snatch, without Pitt, lacks an iconic character that people will talk about for years. With Mangold, Sanchez and the Jets offense is mediocre at best.
7, 8, 9, and 10. Sleepers.
The Bucs seem to find ways to win, the Skins defense is one of the best in the league, the Bills boast the league's best offense, and the Lions have slowly built a complete team on both sides on the ball. The fan bases have been tortured and traumatized for years, and may be on the verge of getting their revenge.
6. True Romance.
The Baltimore Ravens appear on the brink of success, just like Christian Slater and Patricia Arquette, but are undone by Joe Flacco. He is the equivalent of mobsters, crooked cops, and a drug addled roommate (Pitt), who all try and bring them down.
5. Money Ball
Billy Bean changed the way the way that the business of baseball operates. In San Diego maybe they have finally learned how to win, and are on the way up. It took lots of trial and error, but maybe Norv Turner has figured it out.
4. Inglourious Basterds
Opposing offenses were like Nazi's last year, and with the help of Wade Phillips, the Houston Texans seemed to have found a Lt. Aldo Raine to help kill em all. I know they definitely left their mark on Roethlisburger.
3. Seven
Kevin Spacey knew that Pitt's character had a fatal flaw, and would end up killing him in the end. The New England Patriots are similarly flawed and if they don't figure out a way to get to the QB, there's no way they can beat the teams at 1 and 2. Someone should remind Belichick that pride is one of the seven deadly sins and putting together a patchwork defense in order to prove you can whip them into shape, is simply his ego writing checks that his players can't cash.
2. Fight Club.
Pitt and Ed Norton were brilliant in this movie. But they need each other. If you remove one, the other would have fallen. New Orleans is built the same way. With Sean Payton and Drew Brees, they're an offensive machine. Without one, they aren't a playoff team.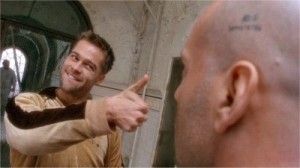 1. Twelve Monkeys.
The best performance of Pitt's career goes to the Green Bay Packers, and the best QB in the league right now, Aaron Rodgers. It is not just Rodgers that makes the Packers the number one team, but much like Pitt's character in Twelve Monkeys, it is fun to watch someone at the peak of their career realize their potential.
Phew!!! Was a little worried that this would be too hard to pull off.
There may be a few on the list that are stretches, but overall I think I did pretty well.  If you disagree, well screw you.
——Corey