You can't really talk college basketball without thinking of the Big East conference. Though it's changed it's make-up from time to time, several characteristics remain the same. The conference has a rich history for smash mouth basketball, intense rivalries, dominant players, legendary coaches, and oh yeah, who can forget those 5 days in early March where all 16 teams battle it out at "The World's Most Famous Arena" in the heart of New York City? I was recently asked who I thought made the All Big East Dream Team. Natural instinct was spouting off 10 players from my alma mater (see Huskies, UConn) but knew that would be completely one sided, so I put down my UConn kool-aid and got my think on. I tried to keep the bigger picture in mind and diversify my picks when choosing a squad of dream-team worthy players. Wasn't too sure on how to break it down. Maybe by position? The era they played in? National popularity? Biggest ladies man? (Mike Nardi would've come in dead last) Well after hemming and hawing for days, I decided the best way to approach this was to break it down by who meant the most to their program then and now. The following 5 players make my All Big East Dream Team and here's why:
1. Patrick "Chewing" Ewing, Georgetown.
For me, there's no debate Ewing is one of the best college ball players of all time. He was the first real star the Big East had ever seen. The NBA Hall of Famer remains the most popular Big East alum almost 30 years later. He was a dominate presence on the court and lived up to all his hype. Oh yeah, and he led the Hoyas to 3 NCAA Final appearances. No brainer here folks.

2. Allen Iverson, Georgetown.
Dude only played 2 years in the league so some might gaff that I have him ranked so high, but look what he did in just two seasons at Georgetown. A.I. finished with 1,539 total points and would likely have shattered the Big East scoring record if he stayed all four years before declaring for the NBA draft after his sophomore year. In 1995 Iverson was Rookie and Defensive Player of the Year. He repeated his Defensive Player of the Year honors in 96′ along while being named a First Team Consensus All-American. Some off the court issues tarnished his legacy in the NBA, but no one can argue how truly dominant he was in his freshman and sophomore years in the Big East. Let's not forget how SICK those Iverson sneakers were either.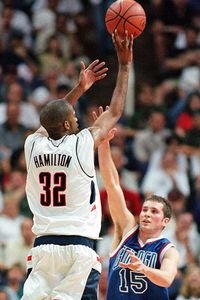 3. Richard "Rip" Hamilton, Connecticut.
When you ask UConn fans who their favorite Husky is of all time, most would say Ray Allen, Emeka Okafor or Kemba Walker. For me, Rip Hamilton takes the crown as best Husky of all time. Standing 6'7 and probably 170 lbs soaking wet, Rip was a prolific scoring threat and to this day fans undervalue how significant he was to the school and UConn's program. Although there were some key figures before and after his time, Rip simply gets the nod here by leading UConn to their first ever National Championship in 1999 and REALLY put the Huskies on the map. Did I mention they beat the almighty DUKE BLUE DEVILS who were heavily favored that year?  UConn wouldn't be where they're at today without this guy, and for that I am forever grateful.
4. Chris "Look at that hair" Mullin, St. John's.
Mullin could be ranked on the haircut alone and I don't think we'd have any argument there. He was of the best pure shooters in college basketball history and definitely a pioneer in making the Big East what it is today. He had three straight years where he was named "Conference Player of the Year," and was 87.8% from the free throw line. He also had 57.7%  shooting percentage from the field. What makes that even more impressive? All of Mullin's numbers were put together BEFORE the college game installed the three-point line. Can you imagine how many more points he could've had? Scary good. Truly legendary.

5. Kerry Kittles, Villanova.
Aside from having one of the best college basketball names of all time, Kittles is currently Villa-no-fun's all time leader in steals and scoring which says a lot for such a storied program.  He finished his career ranked 2nd in made field goals, compiled 2,243 total points and his 715 rebounds are the most boards by a guard in Big East history. He was named Player of the Year in 1995 and was a First Team Consensus All American in 96′. Kittles kind of fizzled out in the NBA due to injuries early on, but he will be remembered as one of the most dominant players in Big East history on both sides of the ball. (That's what she said)
6th/7th Man Award: Kemba "Pittsburgh Center Gary McGhee Will Never Recover After That Crossover Dribble and Buzzer Beater Shot I Hit In His Face To Advance In The Big East Tournament" Walker and Carmelo Anthony are neck and neck here. I decided to put these two guys in the same boat since they remind me a lot of each other. Not their physical attributes nor their their timeline of success. But the similarity they share is how they each had one magical year where nothing could go wrong and it eventually led to a National Championship trophy for their school. (It should be noted during Carmelo's championship season in with Syracuse in 2003, UConn beat them twice, just side information if you're keeping score at home). Both got hot at the right time and were completely dominant when it mattered most, tournament time.
Need more proof? Check this out.
Dreamiest Coach: Jay Wright, Villanova.
Half the reason fans that go to Wildcat's games in Philly are for a peak at George Clooney, I mean, Jay Wright. He's got the three T's: Tall, tan and toned. And that's not all you get with a former Naismith Coach of the Year. Coach Wright has been known to partake in flash mobs on campus.
He's the man.
——Chris the Intern
Chris is participating Volvo's Biggest Fan of The Big East Contest. You can support Chris, who has been eating Ramen noodles every day despite graduating from college years ago, by voting HERE.  He needs your help!!!!! Help keep Chris the Intern off the streets and vote HERE