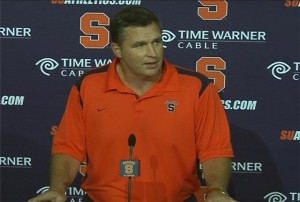 Syracuse.com Syracuse, NY — Tears filled the eyes of Syracuse University head football coach Doug Marrone as he made a passionate defense of starting quarterback Greg Paulus, who was booed by some Syracuse fans during the team's 28-7 Big East Conference loss to Cincinnati on Saturday at the Carrier Dome….I have never seen an athlete, at any level including the NFL, work as hard, mentally and physically, as Greg has worked since he's joined us here at Syracuse. Really, what he's accomplished is extraordinary. Maybe it can't be fully appreciated because most don't know just how difficult it is to play quarterback at a Division I program.
"In the era of video games, virtual reality, it's easy to believe that throwing a pass, reading a defense, avoiding a sack is as easy as the push of a button, that any of us can do. The problem, it's not that easy. We can't do that."
Well, I think everyone knows that I'd like to go ahead and really give it to the Syracuse football program.  But when a coach is this honest, this forthright about the shortcomings of his own ability, and supports his players to this degree I just can't.  I don't believe in moral victories, and there aren't a lot of notches in the "W" column this season for 'Cuse, but this is something to behold.  Marrone puts it best, it easy for people to get mad at Syracuse, unable to comprehend why they can't win.  Has a culture of losing taken over at Syracuse?  Certainly not.  Every week is a battle, and players prep just as hard for every opponent.  You NEVER go into a game expecting to lose.  I think that is what Marrone is trying to say here, every week Paulus, despite a lack of on-field success, is preparing to his fullest, working the hardest.  Unfortunately we don't see the blood, sweat, and tears that goes into Saturdays game.  No, all we see is the 4 quarters of football, when really players and coaches alike have spent countless hours in the weightroom, film room, and on the practice field.