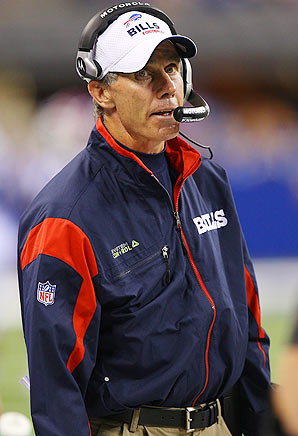 As a Bills fan, I comment not on head coaches, QBs, or star players.  All of whom, in the past decade, have come and gone like the flu season.  Instead, I will be cheering on other Bills fans, a shared misery of the couchdom.  Countless Sundays left wondering, "Why?"  The best part of being a Bills fan? Inevitably, is, other Bills fans.  Misery loves company, friends, and in Upstate new york, there's a lot to love.
Buffalo just axed their head coach, Dick Jauron.  Well, we'll definitely turn the season around now.  Jauron finishes his illustrious career at 24-33.  However, the best (and funniest) news out of all this might just be this little tidbit:
[ESPN] "…Jauron was blindsided by the firing, an NFL source told ESPN NFL Insider Adam Schefter"
Blindsided, huh?  Well, I guess I can understand that.  Winning games and keeping your job probably aren't synonymous in the NFL.