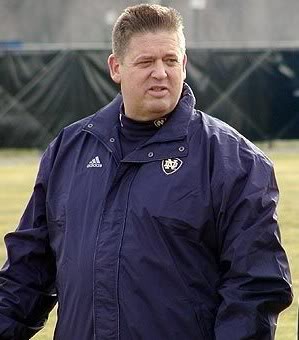 The firing of Charlie Weis comes as a surprise to well, no one.  Except maybe me.  I am always a fan of the long shot and I truly thought that if he had bested Stanford (or even kept it close for that matter) that Weis would be granted a pardon by the football Gods and return for one more season as a Golden Domer.
No such luck, as he has cleaned out his office and is moving on to greener pastures.  The hot talk right now is which coach De Jour will fill the void and where Weis will end up.  What is not being discussed is the implications this has on players, and their time at Notre Dame.  It is same to assume that after a stellar season and without Weis, we can say goodbye to Golden Tate and Jimmy Clausen.
Aside from a deep loyalty to the university (and I'm not counting that out), it would be an unwise decision to return under a new coach and new system that might not suit them as favorably as this season's did, 93 Receptions for 1,496 yards and 15 touchdowns and 3,722 yards and 28 touchdowns, respectively.  The other big question mark is whether or not those recruited under Weis will stay, or scatter like rats from a sinking ship.  Take it from me, the recruiting pitch might have included the school, but staying or going depends on the football.  The NCAA mandated year of ineligibility for transferring to another Division I school might keep some recruits in South Bend.  But coming off a 6-6 season and without a solid coaching candidate in sight, might be enough to force some to jump the NCAA's hurdle.
Case in point would be Zach Frazer, the highly prized recruit, who was buried on the depth chart after Weis's arrival, only to transfer to UConn and lead the Huskies in this seasons OT win against the Irish.  At UConn whenever rumors swirled that Coach Edsall would be leaving (Syracuse, Georgia Tech were calling) I feared for my status on the team, that some new coach might come in and think to himself, "Why, exactly, is there a 285lb unathletic white kid starting on our defensive line" and I would subsequently be relocated to a life of football obscurity.  At Notre Dame, no position is safe with a new coach, and the panic and emotion is real.  Especially for players, like starting offensive linemen Eric Olsen, with a deep loyalty to their now former coach.  Olsen, reportedly had to be calmed down by Weis after hearing the news.