I went to the Goodwill in Somerville yesterday afternoon in search of the worlds worst Christmas sweater for my Christmas party.  Unfortunately, I did not find a sweater.  Nope, instead I found this little gem: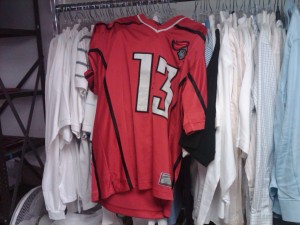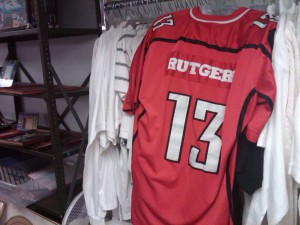 Apparently this is what Rutgers fans do with their jerseys:  Give them to charity.  I can't blame them, I mean what else  are you supposed to do with a Mike Teel this jersey anyway?  Exactly, give it to the fine folks at Goodwill.  My only concern is that, not even people in need took it.  The shelves were pretty picked over, and yet it remained.  I realize I wasn't in Hoboken, where the jersey would have sold quicker than hair-gel and a meat-bawl hoagie.  But, jersey jokes aside, how dare any sports jersey get cast into the darkness like yesterday's trash.  To answer your next question, no I didn't buy it.   Which, using the transitive property means: I'd rather buy an ugly wool Christmas sweater as a joke, then save a Rutgers jersey from bed-bugs in the  "unsellable" bin at the thrift store.
*I'm sure that if they ever sold my jersey (which they didn't) the Mansfield Salvation Army would be chalk full of 'em.