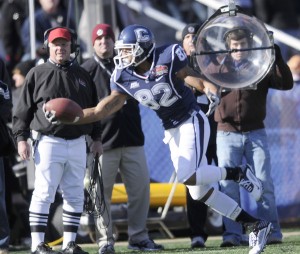 As many of you know I went down to Alabama for the PapaJohns.com bowl, I began tweeting my adventure, and then like a sick twist of fate to my blogging soul, my laptop and cell phone (excuse me, PDA, ehem, Smartphone) died.  And I was left for the rest of the trip, living like I was Amish.  Although it did allow me a few opportunities to better collect my thoughts.  So here they are.
1.  It is always good getting to go back and see your old teammates.  A slightly slimmer Rob Lunn was able to appreciate just how truly athletic and…well…huge our UConn offensive and defensive line is.  And, after watching the game, I have a feeling that Steve Spurrier was equally surprised.
2. Maybe instead of living my life based on stereotype and broad, sweeping generalizations, I should have checked Weather.com.  That way, instead of arriving in Alabama without even so much as a proper jacket, I would have been prepared for 30 degree weather, while I sat there shivering.  Although, I was kept warm by the dismantling of the Gamecocks.
3.  Leave no doubt.  Next years D-Line will be even better than this year.  Sure, UConn loses Lindsey Witten to the NFL, but Kendall Reyes at 2 sacks (shoulda been 3), and they'll be moving Greg Lloyd to defensive end, which should have the same effect as when (now Jacksonville Jaguar) Julius Williams was moved from 'backer to DE.
4.  Did anyone else think it was a little premature of Spurrier to go for it on 4th down that early in the game?  Make it and your Belichick, get stuffed, and you're Norwood.
5.  I was on the field after the game, and got to have a quick word with a Papa John's official, who I think had something to do with media relations.  I asked him "do you think it would be cool if I asked Head Ball Coach for his autograph…" (I was insinuating that it might be a bad time, you know after the embarrassing loss and all) he replied, "You kidding? Go for it!  But, I'd hurry up and catch him, knowing him he'll be on the golf course, grabbing a "quick-nine" before you can say Gamecock!"
6.  You want to talk about southern hospitality?  Go to Birmingham, Alabama.  I got off the plane and random strangers approached me saying "Welcome to Alabama, son"  Friendly? Sure.  But I had to ask, how did they know I wasn't from around there? Was it my suitcase?  My superb dental work?  The world may never know.
7.  If you ever get a chance to go to Jim and Nicks BBQ, run…don't walk….to the nearest location.  Order the Pit Master plate, and call me in a few days after your food-coma has subsided.  Holy crap that was good food.
8.  Coach Edsall was pretty emotional about the win in the locker-room.  I know Mike Enright (UConn media relations) was a little wary of me being in there, now that I am off the payroll and all, but I'll leave what was said to stay in that stadium.  I will say this, talking with the guys and even players parents, I heard one particularly touching story, the quote isn't verbatim, but it's close enough:
"You know, Coach makes sure we know it all the time now.  We all know everyday that he loves us.   There is no question about that.  I'll be walking through the facility, and instead of passing by, he'll stop, look me in the eye and say "I love you, how's your day."  He's genuinely interested in how I'm doing, and I know he cares not only about me as a player but as a person"
9.  I had a lot of people come up to me, my dad, and my grandfather and express your love for the blog.  I really appreciate it.  Even the guy who was waiting to fly standby, who got bumped by me, told me he loved it.  So dude, thank you.  And, if it is any consolation I ended up not only getting delayed into Boston by 4 hours, but on the ride home I was smushed into a window seat by a drunk Florida fan, who proceeded to use me like a pillow and reeked of beer, stale chinese food and mothballs.  I wish was lying, but even my girlfriend (the saint who picked me up at 3am) asked me if I'd been eating Mushu Pork.
10. Not that I am Nostradamus or anything, but when I did the interview on WTIC (if you have a copy/link email me) I told everyone that giving Todd Orlando that much time to prep for a team was unfair.  Well, I think I was more than right.  UConn's defense was lights out all game.  Perhaps Tywon Martin put it best after it was all said and done:
"Those dudes (USC) tricked me"
"How So?"
"Dog, I thought they were gonna be unreal…we watched the tape, man.  They freakin' tricked me"
11.  I am really proud of Husky nation, and to have ever been a part of that program.  Enjoying a game from the stands is a new, but great thrill for me.