We lost. And it hurt. There's something about giving your best effort and coming up short that drains you. It's the truest sense of not measuring up. You are found wanting, feeling almost inadequate. Every loss hurts, and I've been fortunate that in my time as a starter there have been very few, but losing to the boys across the river, well, that hurts just a little more. Did I just insinuate that Rutgers-UConn is a rivalry? You betcha. We don't like them, they don't like us. Bottom line.
Perhaps as the final seconds ticked off the game clock, the entire state of New Jersey simultaneously rejoiced, saying, "Take that FWG. Rutgers wins!" Well, there's a problem with this theory. At 30,000 hits, this blog could not nearly have entertained even a fraction of NJ's population. Then again there are not enough Springsteen and 'Jovi cover (excuse me, "tribute") bands to entertain all of Jersey, so I don't feel too bad. (Actually, I don't feel bad at all.)
That being said, maybe I should actually make an attempt to talk about the loss to Rutgers. A lot of media types and casual fans have been getting on Coach Edsall about the play calling. I need to remind people that after the Temple and Baylor games the plays were called into question and then after the Virginia game people were singing the praises of our "genius coordinator and head coach." Well, I'll tell you what's changed– absolutely nothing. The play calling is based on game conditions and opponent tendencies.
So that brings us to Rutgers. I normally don't like taking anything away from teams, but (I'm not sayin', I'm just sayin…) we are a much better team than we showed Saturday afternoon. We left a lot of points on the field (driving and only coming away with 3 when we should have had 21). That is the heart of the matter. Doing things like that, we beat ourselves. Statistically speaking, we were more than sound in the running game (Downtown Donny Brown for Heisman), and the passing game was on point (well done, Zach Frazer). In fact we out gained Rutgers in both, and won the time of possession. But, I am the first to say there is only one statistic that matters: Won and Lost. Points on the board. Scoring more and giving up less. [Other overused sports cliche.]
We gave Mike Teel too much time in the pocket (when he was on the field, not being booed off. What was up with that?) and we made uncharacteristic drops in the secondary. I've watched the tape (three times now) and it's like a movie and you just can't change the ending ("Go outside, and tie the yearling to the tree…"). Everything says we'll win and we don't. I guess we should start believing, 'cause it's one bad dream I won't wake up from.
I didn't have a humor contingency plan (…in the event of a loss, a New Jersey joke will drop from the overhead compartment). It's a lot easier to make jokes when you're winning and they don't seem as filled with bitterness and hate. (They are. You'll see…)
So as of the end of this blog post, I will officially be done with talking about Rutgers and we (the proverbial "we," the royal "we") will only focus on Cincinnati and the threat they bring to the table. But until then…
Some Final Thoughts:

Fall foliage tour? NO! New name for this: "leaf-peeping." And the bus ride from CT to NJ? I imagine it's some version of Leaf-Peeping Heaven. Or if you're bothered by this sort of thing (which I'm sure you are) the bus ride is like a slow-motion sick ride through a bright yellow and burnt orange hell. Whichever analogy works.
We watched "The Program" on the bus ride there. I would have been fine with a nice romantic comedy (27 Dresses, anyone?). Kidding. Sort of. I hereby designate this movie, MEATHEAD-MOVIE OF THE MONTH. Steroids? College Football? Overacting? Yes, Yes, and Yes. Never mind I literally lived by this movie in high school (senior football nickname = Lattimer).Maybe not the most honest portrayal of the life of a college football player (no, I've never jumped my motorcycle or painted my face like a skeleton).
But who could resist offensive linemen named "Bud-light Kazinsky" or defensive play calling like "Razor-Bearclaw-stinger…kill 'em all, let the paramedics sort 'em out"?
Fans wanna say that it's a sign of disrespect when we schedule teams for homecoming. Well which "we" are we talking about? Players don't have any say in the scheduling (well, nobody asked me anyway). The next team on our schedule is the next on our schedule.
To the fan who wrote "GO UCONN!" on a napkin and held it against the window as he drove next to the bus as we traversed down the highway. You sir, (yes, you!) have a fanhood that does NOT need questioning. Tremendous.
I hate that we lost. I also hate that we lost to Greg Schiano. Not because he's a bad guy or a bad coach. I'm sure he's a lovely person. But how could we lose to someone who looks like he just walked off the set of Spin City? (Anyone else think he bears a strong resemblance to Paul Lassiter aka Richard King?)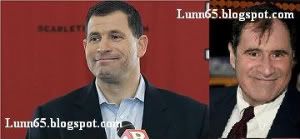 Just a thought.
I've had enough of kids telling me New Jersey is the best.* It's like when a salesman knows he has an inferior product (hurry up and push the fish, it's about to turn…) and does his best to convince you otherwise. You never hear people from Kansas being like, "Yes, Dorothy, AND Toto– both from here. There is no place like home!" (It's a metaphor– Dorothy and Toto, Springsteen and Jovi…) "Jersey is the best!" (Best what? Smelling? Definitely not.) Maybe if they repeat it enough, it will come true (it won't).
*To be specific, arguing about high school football domination state to state is exempt from this hatred. This sort of pride is to be expected.
Cincinnati up next. Well coached, great executors. Let see what we can do.