Here's the writing sample the FWG did for NESN. Acronyms aside, Looks like even the FWG can be wrong:
(DATED: THURSDAY, OCTOBER 23 @ 8:14PM)

(3) The Pennsylvania State University (Penn State). There are only two things in life that are guaranteed: taxes and JoePa's contract extension. Don't let the report of "Arrested Nittany Lions" scare you. The man who "is Penn State," according to Pennsylvania native Steve Brouse, has more job security than God. The Nittany Lions have been on a steady roll since 2005 (after having fallen short of bowl eligibility in 2003 and 2004). Safe to say that Butkus Award winner Paul Posluszny restored "linebacker U" to the prestige of teams past. 2008 is apparently the new 1994. This year's team (at mid-season) is looking to duplicate its most recent (undefeated) National Championship squad. Has there been controversy this year? Absolutely, but what's a few felonies between friends? Nothing in State College, Pennsylvania, apparently, but I am glad that coaches are not flinching in the face of national media scrutiny. Too often do we see these situations mishandled (cough, Al Groh, cough), and I am glad the coaching staff, administration, and players were able to evaluate the situation before uniformly dismissing the "accused." Having taken an unofficial recruiting trip to Penn State I can say two things: 1) JoePa's office is more sports museum than functional space. While he does have a personal computer (Hi, I'm Joe Paterno, and I'm a PC), it's large enough to hold the original computer. 2) Recruiting the top talent in Pennsylvania is paying off. Just look at last week's 47-17 dismantling of Michigan (Oh, Rich-Rod, country roads, take you home…). Homegrown Jordan Norwood is lighting up the stat board this season (405 yds, 5TDs). Kudos to JoePa in playing freshman and spicing up the offense (the wing T was sooo 1976). At the halfway mark of this National Championship marathon, Penn State looks to be a lock to finish in the Top 5 and is eyeing that #1 ranking every week. This coming week they face Jim Tressel (and Jim Tressel's sweater vest…all power is derived from the vest) at Ohio State. So best wishes to the Nittany Lions (unless they ever play UConn).
(5) The University of Florida Gators. Urban Meyer: thanks to you, I no longer believe that Florida is where people go to die (miss you, Grandma…). Besides Gator Farms and Gatorade, the actual "Gators" are perennial Top 25-ers. This year is no different, and the University of Florida is looking more like the NFL's version of the NBADL, thanks to Tim Tebow (I hear his tears cure AIDS). With targets like Aaron Hernandez, Riley Cooper, and Deonte Thompson (yes, Deonte), the offense is simply electric (boogy-woogie-woogie). Through superior coaching (oh, and a Heisman Trophy winner) the land of heat stroke is more like a swampy piece of heaven midway through the season. Can the gators finish out a tough SEC schedule? We'll see. Make sure this Saturday afternoon includes checking out the score of the Florida-Kentucky game. (My prediction for this fight? Pain.) One slip up by Texas or Penn State, and the national title may lay its weary head to rest in Gainesville, once again.
(1)University of Colt McCoy, ahem, Texas. Mack Brown. Sounds like he should be singing on Soul Train, not coaching University of Texas football. Colt McCoy? Named Colt, you were destined for only one thing: to be the starting QB for the Longhorns. While McCoy does slightly resemble a Furby,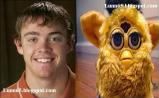 …his numbers are anything but a passing fad (pun intended). He went 29 for 32, for 337 yards and two touchdowns, oh…and he legged in two as well. I don't want to say that Colt might be half man/half God, but when the blood tests come back, I will say I told you so. As for Mack Brown? I can see him being the Clark Kent of college football, winning games as an unassuming coach by day, saving orphaned children by night. Not to mention an offensive line with such depth and talent that they can rotate their starters with no drop-off (shout out to the Big-Uglies up front). The Longhorns are poised to make their stay at #1 a lengthy one. Though the rest of their schedule features Oklahoma State, Kansas, and Texas Tech, I wouldn't worry. Having already tackled defying gravity and mortality, Mack and McCoy should dismantle these teams with relative ease.