(Please excuse spelling and grammar errors, in my haste I have had no time to edit.)
Ahhh its 'Cuse week, that magical time of year when the fates align, the Big East trembles, and Jim Brown's little hat gets a little greener. My sincerest apologies for not getting this out earlier in the week, but FWG has commitments (more on that in Final Thoughts)
.
So let's break it down:
Offense:
The Syracuse offense was a victim of its own creativity early on in the season, running too much, too soon, and not well enough. However, two things should be noted when evaluating their offensive production as well as what they've shown in terms of wins and losses:
Their strength of schedule (something like the 7th hardest in college football)

New offensive coordinator
However, in recent weeks they've seemed to figure it out: Take your Hall-of-Fame heritage QB, your tremendously talented running back, and the five big boys up front, and start playing smash-mouth football. Guess what? It worked. A big program win over Louisville and a narrow loss to Rutgers and I'll be the first to say it, "Syracuse may be back on track" (Greg Robinson's ReMax agent mourns).
Defense:
Syracuse has always had a tradition of hard-nosed defenses and talented defensive players (maybe it's all the snow?). Freeney, Green, and now a senior who has melted the weight away, Nick Santiago. Nick is a close friend of the FWG (we played in the NY vs. NJ All-Star game together) he's also another guy from "The-U".
(Upstate New York). I won't say that Nick is the heart and soul of that defense (he's not), but he lost 40lbs in the off-season (FWG tear) and I think that is indicative of the mentality of 'Cuse. They haven't given up, and they are willing do whatever it takes to win (including shedding a few lb's before beach season). You watch the tape and realize that these guys play hard-nosed football for 60 minutes, regardless of the score.
Point in case, the Penn State game, down 28 nothing with 10:12 remaining in the second, 'Cuse did not pack it away, they fought to the bitter end.
Special Teams:
Not a lot to say (insert kicker joke), but their punter is ranked 5th nationally in net punt average, and he's got a real hammer for a leg. He's no Kentucky Hammer (UConn fans will get that one), but still the kid can kick and he is a tremendous weapon for the Orange (the artist formally known as Orangemen).
Maybe it's because I grew up a huge 'Cuse fan, I have 3 or 4 good friends that play there, or because our coaching staff is chalk full of 'Cuse alum. But the FWG has a tremendous amount of respect for everything Syracuse, and not just on the hardwood (sorry, Jim).
The bottom line is this: do not let their record fool you, this will be a hard fought, tough football game. This team has nothing to lose, and that makes them very dangerous people.
Time for some…
FINAL THOUGHTS:
The FWG is finally healthy again; he wishes the same speedy recover to his quarterback (Tyler Lornenzen) and tight end (Steve Brouse).
So this week I went to a charity auction for the girlfriend. Throw away thoughts of country club bidding and proper "auction etiquette"; this was a "meat market" at a campus bar, bidding off dates with beautiful women for the highest dollar. Of course my girlfriend was on the auction block (remember the part about beautiful women). After a short pep talk before the event that went something like, "Hey don't worry, the highest bid we've ever had is, like, $45" (cue crack of thunder in the background). The bidding starts at $5 dollars and shout "twenty!" everyone laughs and smiles because let's be honest, it's cute when the boyfriend is bidding for something he's already got. Not expecting to be outbid, I relax knowing that this night will only cost me a twenty-spot and I've made the girlfriend happy. "Thirty!", only it wasn't me yelling, it was a man of near miniature stature to my right. I laugh, give an awkward smile and say "forty-five", which is promptly chopped down with a "fifty-five". Okay this isn't funny anymore, stop driving up the price little man…I look at the girlfriend, who shoots a "save me" look from up on her pedestal. I then shout "Seventy!"–no laughter, no smiles, just looks of wonder to see if my pint- sized pal dare outbid me again. Going once, going twice, Sold! to the fat white guy in the front. Tremendous, I just bought my own girlfriend for $70.00 (and worth every penny).
There is a moral somewhere in that story, perhaps it was that you shouldn't be put into force-awkward situations where someone has the ability to put a price on how important someone is to you. Yeah, maybe that's it. Maybe karma was screwing with me.
In the past week I have received some of the best emails, from fans, old friends, and even my nursery school teacher. That might be the biggest perk of this gig.
A little belated, but a big FWG Happy 5th Birthday to Matt Peronace! Probably my favorite fan of all time (and YES, I remember you!)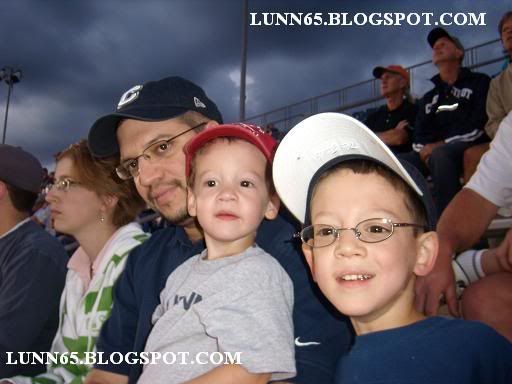 Check in after 'Cuse
-FWG-