The Huskies prepare to take a trip down South, to the land of swamps, retirees, and the 4 pm early-bird special. Apparently there will also be some football played on Sunday. Let's take a look:
South Florida has come on strong since joining the Big East (ranked as high as #2 last year). They've struggled as of late, but I'm the last person to sleep on any team (check out the Syracuse post). Don't let some hiccups in their schedule fool you, South Florida is a force to be reckoned with (insert South Florida hurricane analogy here).
Offense:
One Word. Actually, two words….and three syllables. Matt Grothe (I'll take,
Does this Grothe look normal to you, Doctor?
for 500, Alex). Clever puns aside, Grothe is a dual threat quarterback. Dare I compare him to Robert Griffin (oh I dare, yes…I dare). Griffin has the NCAA clocked speed but Grothe can burn. Point in case, Barwin from Cincy had him dead to rights on the USF ten yard line, 3rd and 14, and Grothe rips a 48 yarder making Barwin look less "great white hope" and more "great white joke." I respect Grothe's grit too, telling the media, "I'd play on one leg if I had to." (As much chance as a one-legged man in an…never mind). Truth is Grothe and his stable of running backs are all moving behind the steam-rolling capabilities of their talented offensive line. On film their big-uglies are looking like two parts wrecking crew one part impenetrable wall (YOU! SHALL! NOT! PASS!). Anchored by the self described "biggest talker" Ryan Schmidt: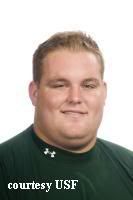 Apparently Ry (do you mind if I call you Ry?) Ry, has not only the gift of gab but also a mean streak that has "proved invaluable to the Bulls." (He's also in the running for FWG of the week). Expect a slug fest in the trenches.
Defense:
Selvie, Selvie, Selvie (Marsha, Marsha, Marsha!). Emotional leader Moffitt gone, sack-master (haha) Selvie steps it up in a big way. While he does have some catching up to do with Cody Brown in sack totals this year, George Selvie is a major threat in a big way off the edge. Probably one of the best match ups in college football this year will be to see how OT Will Beatty battles Selvie in the pass game (that and how Dave Wandstat's mustache holds up to the frigid cold in Cincinnati. Brrrrr).
UCONN:
Can DDB (Downtown Donny Brown–for the new comers) continue his streak of road-rashing (word?) opponents? This week will be an even greater test.
South Florida is a hot-bed of talented skill players. Their team represents a cross section of some of the finest. The height and speed of their receivers will present a tremendous challenge to our secondary (Reggie can't help he's only 4'6).
Its getting late (not post-time). Time for some…
Final Thoughts:

I've received some mixed reviews to my take on the Jeff Jacobs article in the Hartford Courant which called Coach Edsall "Coach Pinocchio." Bottom line is this: It is exactly how I felt, about Coach and about the article. However, that being said, the picture comparing Jacobs to Vigo from Ghostbusters was out of line (I don't wanna say sleezy, cause that's not the word, but maybe…a tad irresponsible?-Wedding Crashers) The FWG is not about personal attacks, so my heartfelt apologies to Jeff.
As a corollary, go out and rent yourself Ghostbusters II, cinematic gold.
The FWG will be graduating in December and needs your help (no not on figuring out what size cap and gown to buy….XXXL). Email me some suggestions on trips you've taken that you liked: Emphasis on abroad and backpacking.
I need to give a shout out to some of my teammates who have felt left out on the blog. Bret Manning– a transfer from Springfield College (alma mater of the Henry "Uncle Hank" Hughes). B-Manning is a real spark plug and an inspiration to everyone in the weight room (nice delts).
Second is Nate Sherr. Despite the fact that Nate shamelessly hits on my girlfriend in front of me, he is an outstanding individual. One of the un-sung heroes on our team that grinds it out on scout team and is making a case to be a starting long-snapper. Again, a great guy. Just don't ask him to say "car" or "Harvard"….trust me on this. (Pahhhhk the Cahhhh in the Hahhhhvad Yahhhhd). God, it's annoying.
On May 16th my cousin, Christopher, will be receiving his confirmation. Despite the voices of reason he has asked me to be his sponsor. FWG: The Patron Saint of Pork Products. Can't wait.
Speaking of which, I need a new "Headliner Graphic" so please send pictures or photo montages or anything else to TheFatWhiteGuy@gmail.com. I also need a slogan. The current front runner:
THOUGHTS FROM A FAT WHITE GUY
Where porkchops live.
Got something better?
Email me!
TheFatWhiteGuy@gmail.com