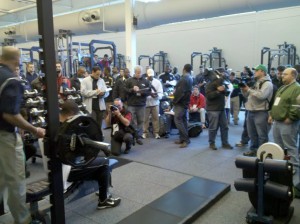 Had the pleasure of stopping by UConn this afternoon.  Believe it or not it was my first time back on campus since I left for Austria.  Anyway, I'll keep it short, its 6:20pm and no one is reading this anyway.  I know it's cliche to say, but I swear those guys get bigger every year.  And not only that, more talent.  No, I'm not talking about this year's crop of NFL talent, I mean the freshman, the redshirts, the pimple faced future of UConn Football.  Apparently freshmen have been turning heads so far in Spring ball, could be a "youthful" line up come fall (see what I did there).
As far at the NFL guys go, I'll keep it brief.  Mike Hicks is slim and trim, and poised to win. Dan Ryan jumped an impressive 32 or 34 inches, depending on who you asked.  Witten and Vaughn improved their 40's and looked remarkably fit.  Pretty much all I got on that one.
Final Thoughts:
Maybe I'm sounding like the sentimental push over, but there is no program in the country that welcomes back it's alum like UConn.  Even pseudo-media types like me.  Open arms, lots of hugs, hellos, handshakes, whatever.  Coach Edsall even through me a curve-ball with a brief-man embrace.
Football is probably like bizzaro world in terms of heterosexuality.  Tight pants, ass slaps, hugging, crying, all acceptable on the field or in the stadium.  That goes double for the combine and pro-day.  You remove the element of pads, and add in a display of spandex, compression shorts, and cameras.  And I love it.  Well if that makes me gay then fine.  I'm as gay as they come.  My dad probably just choked on his late noon coffee.
Saw D-But (Darius Butler) at the facility.  Good news Patriots fans (bad news Bills fans), the  kid is still as athletic and muscular as ever.