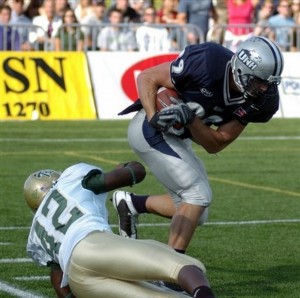 Scott Sicko went undrafted this year.  And now, despite considerable interest from teams around the NFL, he says that his playing days are done.  He's going to continue his education; Getting a degree in history.
I'll have a full write-up over on NESN in an hour or so.  But, part of me wants to tell this kid to get over his ego.  So you weren't drafted? Who cares?  Make the most of your athletic ability while you still can.  You can teach high school history for the rest of your life, but this chance is once in a lifetime.  Trust me, you're one the cusp of relevancy.
I mean if you are sick of football, that's one thing.  But it's entirely another to say that because you weren't drafted you won't play in the NFL.
Insert 'Sicko" pun here.