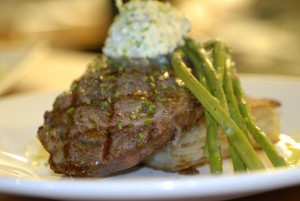 FWG is spending his summer on Martha's Vineyard, eating at restaurants he would never normally be able to afford and doing things a fat kid should do: like kite surfing and smiling.  Stay tune for more tales from the Vineyard.
Of the many things to do on Martha's Vineyard, eating is often top priority.  But with a plethora of snack bars, fried food, and seafood shacks, navigating the 4 mile long island, dense with dining destinations is no small feat.  Well allow me to answer at least one part of the question for you.  For the best food in one of the best atmospheres on the island, go to The Ocean Club.
Saying that one restaurant on Martha's Vineyard is superior to another and debating that point might be an exercise in futility for most; the answer will most likely lie in actually going to said restaurant.  Or in my case, the proof was in the (chocolate bread) pudding.
The Ocean Club is situated in the historic "Dreamland" building in Oak Bluffs.  Once an amusement park, arcade, and Coney Island-esqe place of entertainment, the Dreamland building now plays home to a host of businesses, including the newly opened Ocean Club. Walking up the steps the diner is met with an inviting sense of place, as you cross the breezeway in to the cocktail area, the nuances and efforts of design are easily recognizable and appreciated.
Whether it is the shear expansiveness of their bar and cocktail area, the poured concrete floors and ambient lighting, or even the smiles on the face of their welcoming and knowledgeable staff, they've managed to do the big things great and the small things even better.  The table arrangements were elegant, set atop butcher paper that came off as fitting, not a cheesy-gimmick.
Managers Kevin, Kyle, and Troy, with over 35 years of restaurant experience between them have managed to impart their wisdom from years spent in Las Vegas and New York City and apply to the island eating scene. The pitfall of many a restaurant here on Martha's Vineyard is trying to bring outside flavors or themes without embracing the rich tradition and way of life here on the vineyard.
Perhaps it is due to its historic building, but the Ocean Club manages to bring fresh flavor and a level of relaxed-upscale to the island, neither imposing an unnecessary trend or fad, nor fading into the bleak beige background noise of other island eateries.
Every meal begins with breadsticks and a three dipping condiments: fresh basil pesto that would rival the best in Italy, a roasted red pepper and spicy chili blend, and my personal favorite, a tapenade that will honestly change your life, and was certainly a sign of things to come.
Our meal began with a Caprese salad with a sweet balsamic vinaigrette drizzled over fresh beefsteak tomatoes and fresh mozzarella.  The basil was not bitter, but rather offered a fresh aromatic to the dish.  The portion size was almost more than I could finish; which is no doubt a good thing. With the ocean breeze gently channeled through the huge double doors, I couldn't help but become swept up in the spirit of great food done absolutely, precisely the right way.
My date enjoyed the brazed short ribs and potato chips, a dish I'd never seen nor heard offered elsewhere.  The dish, decidedly unique to the Ocean Club was tender and rich and offered a complex flavor construction enhanced by the textural curveball of the thinly-sliced potato chips.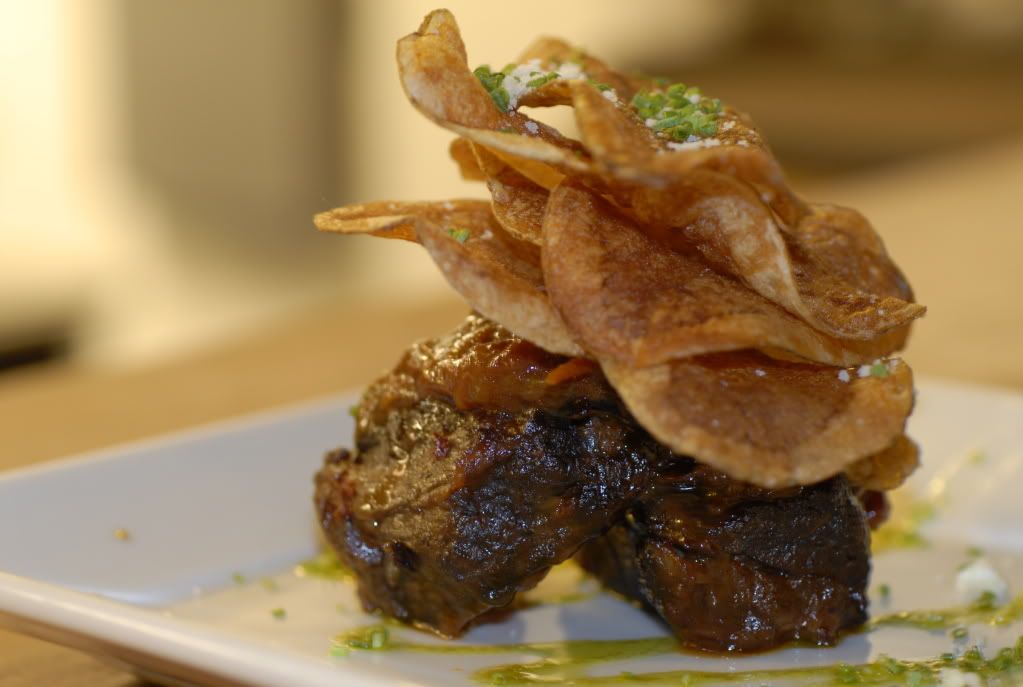 Something I might never have thought to venture on my own, but at the recommendation of our server Keri I was happy to try.
My entrée was a 16 oz Ribeye with potatoes au gratin and grilled asparagus. Typical of most restaurants is the exchange of "how would you like that cooked" to which your response is a moot point; your meat will be served to you either so raw you hear a faint "moo" as you cut into it, or so well done it doubles a shoe leather or "Cajun."  Not so with wunderkind Chef Brett Williams at the helm.  I ordered my steak "medium" and it came just as I asked.  Tender and delivering every bit of flavor you'd expect from a choice cut, with no superfluous dressings or sauces.  Chef Williams was confident to let the quality of his product speak for itself, and speak it did.  While the meat was certainly delicious, the focus of the meal would have to be his take on potatoes au-gratin, which was served in perfect squares, cooked to perfection.  The one kind of dish you wish you had in your repertoire, Chef Williams delivers nightly.
Constantly in search of the perfect meal, I can say I've looked high and low.  Whether dining in Tuscany or Tucson, clam shacks  or dive bars, fast food to French food,  I've had my fair share of poor, mediocre, and great eating experiences.  I can say without a doubt that the level of service and quality I received at Ocean Club has set a new standard for culinary excellence and will be a place I return to many more times.  If quality dining, whether for dinner, aperitifs, or simply cocktails and appetizers, is something you desire then make Ocean Club your destination for on island culinary excellence.