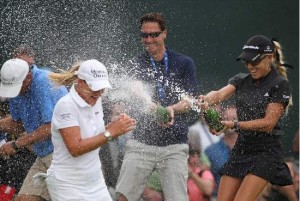 Yay for Upstate NY.  Where there's cows, rednecks, and the LPGA *gag*  At least we have good wines to boast (which I so expertly tested this weekend on an afternoon wine tour).
But this wet t-shirt celebration looks like a regular ol' buzz kill.  Here's why:
Chicks – dig golf only if that means our guy will give us their credit card on Sunday afternoon so we can hit the mall while he watches the Masters.  Also.  We love scandal…aka Tiger Woods.  No way these ladies actually enjoy golfing.  Either pick up a tennis racket or hit the putt-putt course.  Yeah I said it, and I can because I'm a chick…and, I'm right.
Dudes – just dig golf.  It's a total booze-and-schmooze, old boys' club for all ages of males.  **Note: they do not dig golf for the modestly dressed lady pros who drive the ball a mere fraction of the range and are completely covered when bending over to pick up their putt**
Hopefully the LPGA trophy comes with a paid vacation to Panama City Beach for some spring break lessons on working the camera, taking celebratory body shots, and wet t-shirt contests.  That's where I learned my best moves.  Put to practice on said wine tour.  Spring Break '09 – holler.
xoxo.  The Rook.