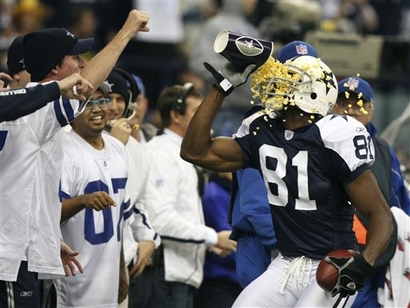 AP: Terrell Ownes would like to point out that he's never been disciplined by the NFL for off-field conduct, unlike some of the league's "golden boys."

No team has yet to sign him as a free agent, and the polarizing receiver worries they're swayed by the perception he's a troublemaker. A perception he believes he disproved with his agreeable behavior in Buffalo during a disappointing season last year.

"There were a number of times where prior I probably would have reacted, said something I wasn't supposed to say," Owens told The Associated Press on Tuesday. "I really had some restraint, very patient."
Owens feels that just because he hasn't been cited with off the field issues that he is unfairly being characterized as a so called "troublemaker."  What Owens fails to realize is just as much as the NFL under Goodell has concerned itself with off-the field issues, the on the field stuff also matters.
Owens simply doesn't make a good teammate.  No team in their right mind will take a risk on player that rocks the boat the way T.O. has proven he does.  His smile and flash might be marketable, but he is a proven disruptor of team chemistry.
When with the Eagles, he insinuated that  Jeff Garcia, then the starting QB of his former team in San Fran was gay.  In a Playboy interview he said, "…like my boy tells me, if it smells like a rat, and looks like a rat, then by golly it is a rat."  Adding to his tenure of bad taste, when he was in Philly, his feud with McNabb was very public and very brazen.  Starting with a derogatory comment towards McNabb, telling him "I'm not the guy who got tired in the Super Bowl…"   He then went on to lobby for a new contract, after publicly voicing his distaste with his "underrated" original one. Including blasting the Eagles coaching and management before being suspended for four games and then deactivated for the remainder of the 2005 season.  The feud was settled with the Eagles making a choice: Keep McNabb, send T.O. packing, without a new contract.
He may have kept his nose clean off the field, but as a teammate  he doesn't have a leg to stand on, he referred to his former employers as "classless" and lashes out against management and owners in the public forum.
He'd like to point out his "good behavior" in Buffalo this past season, but that season also marked a disappointing low in T.O.'s performance.  He was given the key to the city and promptly proceeded in opening absolutely ZERO doors for his team, or precisely only 55 catches for 859 yards.
That  may be why many GM's, teams, and coaches are not interested in making a play for the once time very productive receiver; he's in the twilight of his career.  Hell, even Jerry Rice played with the Raiders.