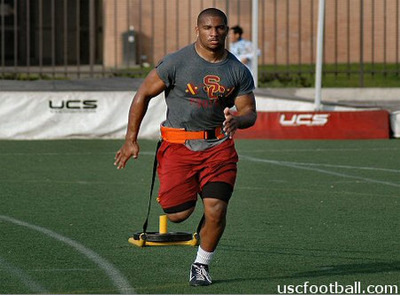 USC has lost another one of their recruits since the NCAA violations caused a virtual firesale on the PAC-10 powerhouse's prized recruiting stable.  I personally couldn' t enjoy more what is happening to Lane Kiffin, but that is neither here nor there.  Fans of UConn football might be asking themselves how did Shoemate end up at UConn?
Not that I would dare ever insult, question, or demean the recruiting efforts of Coach Edsall and his staff.  To be totally honest, even two years later I'm still scared that I'll be getting a phone call telling me to drive in from Boston for my 6am stadium run.  Anyway, Shoemate who was a Super Prep All American, he could have chosen any school in the country to go to especially one that didn't already have a standout RB in Jordan Todaman.   So why UConn? Well friends, this is where your love of FWG comes in.
Shoemate is former high school teammate of current Husky back up quarterback Johnny McEntee.  Both played together at Servite High School in Anaheim, Calif. 

Johnny-Mac had been in contact with Shoemate since the NCAA sanctions, working the text messaging magic that only college students are capable of…that and..Facebook: The teens love the Facebook. J-Mac was able to act as a catalyst for showing his former teammate all that UConn has to offer, including that it can be a great home for those displaced from the Left Coast.
Shoemate may contribute at running back, but word out of Storrs is that he'll be a contributor "wherever we can fit him."  Apparently such a tremendous athlete, they'd like to fit him wherever there is a need (possibly even DB).  So, fans of UConn Football should you find yourself running into Johnny Mac on the mean streets of Storrs, or the famed parking lot of The Rent this fall, tell him thanks.  He's managed to bring a great talent to the team and flip the proverbial "bird" to Lane Kiffin in the process.
Final Thoughts:
As many of you well know I'm living on Martha's Vineyard.  Yesterday I had the pleasure of encountering a lovely Canadian woman maned "Luchia."  When I asked Luchia where she was from, she said "Cape Breton, the island ..do you know where that is."  Well, apparently it's an island off the coast of Nova Scotia (Thanks Google!).  Of course at the time, sitting on that bench in Edgartown I had no idea, so I replied as such.  She let out an uncommon chuckle of disdain and hilarity for a woman of her age (75…I asked). "Well then, you're DEFINITELY American, no sense of geography at all. My island is much more beautiful than this, we have mountains"    I was dumbfounded and insulted.  So I replied,  "how big is your island?"  To which she said, "Oh I don't know, much bigger than this I suppose"
Well at that point, I'd had it.  So replied "Typical Canadian.  No sense of geography.  Martha's Vineyard is 20 miles long by 10 miles wide…"
Well, Luchia pretty much vowed never to return to the U.S. ever again, and I'm pretty much okay with that.  If it takes one insulting lesson in geography to keep the Canadians away then I think I've done my part.