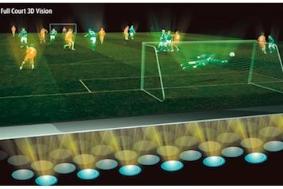 CNN – November 30, 2010 – When Japan based its entire World Cup 2022 bid on a dazzling display of computer wizardry that doesn't yet exist, it was taking a gamble.

Japan, which is vying with Australia, Qatar, South Korea and the United States for the 2022 tournament, will find out on December 2 whether its ambitious proposal paid off.
Oh good.  I'm sitting right on the edge of my computer seat right now.  My cubicle can barely contain me and all this excitement.  Is there an American Idol texting/voting number that I can text-bomb right now????
If there's an option for holographic images, we outta satellite some real sports into the arena during actual play and have the World Cup show up on ticker screens on the chair in front of us.  I'm hiring an FWG intern right now to hack that shit.
Rah Rah Rah…nobody is listening.
– The Rook