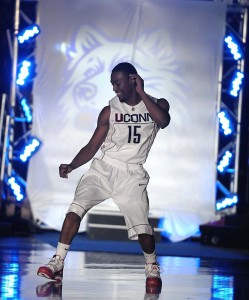 Happy college basketball season kids! We've had some premier match-ups so far with these early season tournaments and fun out of league scheduling. Call me bias, but there just simply isn't anything like the five months of college basketball season.
The Huskies, predicted to finish 10th in the Big East, by fellow Big East coaches, are currently the sixth best team in the country according to ESPN. There is a different vibe about the Huskies this year – more focused players and leaders on the floor. And, how about Kemba Walker? Leader #1.
He was challenged this year to make an outside shot. Hell,  defenders would play off of him in years past because they knew the chances of the shot rimming out was in their favor. This year, you better guard the kid, cause his shot has been much improved. But then again, don't guard him too tight, because that first step is lethal.
He was in the gym all summer working on his game non-stop. His work ethic is second to none and knows he can only get better. Walker, who is a big fan of Chris Paul, consistently watches the NBA to hopefully have his game  resemble that of the pros. His opinion matters to his teammates. He is vocal. His teammates listen because his demeanor earns their respect.
Leader #2 according to sources is Kemba's roommate, senior Donnell Beverly. The leadership these two have shown on and off the court to the large class of incoming freshman, has been just what the program has needed. Although Beverley is not as big of a threat to the Huskies on the court as Walker, he has been just important to the program leading by example off the court. He has taken the underclassman under his wing and shown them the right way to go about it all – cooking dinner for them and organizing a few little game nights playing Uno and Trouble!
In practice, he works hard, is fundamental and is another voice for the Husky underclassmen to look up to. Coach Calhoun didn't just give him the title of "captain" for no reason. He is a kid the coaching staff can trust.
It is the little things that Jim Calhoun preaches that allows his players to prosper and grow as people. Be on time. Look out for one another. Be 5 as 1 on the court. It is leaders like Walker and Beverly that allow Calhoun's message to come across a little clearer.
It is Walker and Beverly who will continue to tag team the leadership of this young crew and hopefully for Husky fans, lead UConn back to the NCAA tournament.
Tonight the Huskies take on Fairleigh Dickinson at Gampel Pavilion at 7:30PM looking for their eighth straight win.