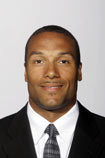 Andrew Wilson who came to UConn in May of 2006 has accepted a position as head strength coach in charge of football at the University of Maryland.  Wilson, a standout football  player himself at Kings College in Pennsylvania is a highly regarded young prodigy in the ranks of strength and conditioning coaches.  Wilson has previous ties to the University of Maryland, having interned with Director of Strength and Conditioning Dwight Galt in 2003.  Maryland has a rich tradition of producing athletes with great "numbers" — Vernon Davis anyone?  While I'm sad to see him leave UConn, I understand that this is an opportunity he could not pass up and I wish him the best.
Strength and Conditioning coaches are, by definition, a different breed. Part coach, part torture expert, they possess a literally profound talent at extracting the very best from their players. Meaning, in four years under their direction one can become the strongest, fastest, most powerful person they will ever be. But the strength coach is also part mentor, knowing how and when to motivate his players. The tools of his trade? Weights, dumbbells, rubber bands, sleds, sandbags, and a well timed whistle.
Wilson has a talent for knowing his players and their individual needs, he address said needs with a profound technical knowledge of the human  body, as well as continually widening his breadth of knowledge in the world of strength training.  By hiring Wilson, Maryland has taken a giant step in the right direct; he is a man of unflinching character and aptitude.