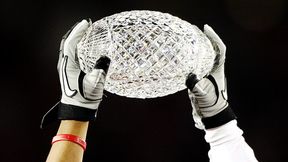 This past weekend the NFL playoffs began. With the exception of a Kansas City team that, after taking a half's worth of punches from Ed Reed and the rest of the Ravens defense, decided to remain in the locker room drinking hot chocolate, Wild Card Weekend gave us three great games.
First up we had the Seahawks Vs the Saints. Even though the game was in Seattle, no one gave the Seahawks much of a chance against the defending Super Bowl champs, who appeared to be peaking towards the end of the season. Apparently no one told Matt Hassleback he was supposed to lose. Marshawn Lynch, an absolute beast running downhill, clearly didn't get the memo either. His run to put the game out of reach is one of the greatest crunch time runs I have ever seen. And yes, I am ignoring the horrendous tackling by the Saints and giving all the credit to Lynch. Maybe that's why the Saints didn't trade for Lynch. Their secondary was terrified of him and it would have upset the locker room chemistry.
Next we had Rex Ryan, who seems to take everything personal these days, and the Jets against Peyton Manning. What do you mean there was a football team involved? Rex said he wanted to beat Manning. If he isn't concerned about the rest of the Colts then I'm not either. Hmmm on second thought maybe I shouldn't be taking my cues from an obese blowhard who shoots videos of his wife's feet while pretending to be a police officer.
As a Patriots fan I was rooting for the Jets. And no it has nothing to do with not wanting anything to do with playing Peyton Manning in the playoffs. Seriously, it doesn't. I promise. When Folk kicked his team into the divisional round, ending a wildly entertaining game and the Colts season, I was genuinely excited. Ok so that may have had to do with a bet I had with my girlfriend but that's neither here nor there.
I want to play the Jets. I live in New York and have been watching Rex talk about his team as a Super Bowl contender all year. Like all he had to do was be fat and mildly entertaining and that would punch his team's ticket. Well here is your chance to put your money where your wife's feet go. Bring it on.
Sundays games started off strong. Kansas City you played good football all season and took advantage of an easy schedule to make the playoffs. You played one good half of playoff football in front of your diehard fans. That's about all I have to say about that.
That and the Ravens defense can be scary good.  I hope that Pittsburgh manages to take them out before they meet the Patriots in the AFC Championship. Yep. I said it. We will beat the Jets, and yes, I'd rather play Pittsburgh.
The last game of Wild Card Weekend was the Packers Vs the Eagles. This one started off slowly, with first quarter jitters affecting both teams. As the game went on you saw why the Packers were many people's preseason NFC Super Bowl pick. They have a physical, in your face defense that gets after the quarterback. They have a great quarterback throwing to a talented receiving core, and when they want to they can run the ball and control tempo.
The Packers went into Philly and got the job done. The Eagles had a shot. Brent Celek shame on you. Then another shot. Then another shot. But in the end Green Bay held on. Depriving everyone of the potential Eagles and Falcons matchup that had everyone salivating…like a dog.
Ed McMahon gives the opening weekend of the playoffs…..three and half quality football games out of four.
The last four weeks there have been 256 Bowl Games leading up to tonight's Tostitos BCS National Championship game. Ok ok, so there have only been 34. But out of those 34 you know how many have been quality football games? Go ahead, think back. Try and remember the memorable games over the last few weeks.
I can think of 4 or 5. Even rounding up that's 5 out of 34. That means 85.3% of the College Bowl Games were not worth watching. Compare that to 87.5% of Wild Card Weekend being, not only worth watching, but quality, exciting playoff football. There's that word again…playoffs. Playoffs? Sorry Jim Mora, but that never gets old.
Much has been made about the current BCS system. Many feel a playoff system would be better. Hard to argue when they rolled out boring, unwatchable games this past month at an 85% clip.
Well BCS, this is your last chance. Tonight's game is your shot to prove that you know what you are doing, that you have indeed, saved the best for last. If Oregon and Auburn fail to live up to the hype then I am turning against you forever. What's that you don't care what I, or any other red blooded college football fan thinks?
Well I've got news for you Mr. Brown. You haven't heard the last of me. You may think I'm shit now…
Half Assed Prediction – Oregon behind a huge game from Lamichael James, keeps it close but in the end Cam Newton is just too well paid, sorry, too good to let his team lose. The BCS Title Game lives up to the hype but I turn against them next year anyway. Why? Because I am bitter. TIGERS 41 DUCKS 38