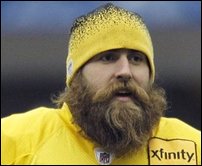 1) I don't have a single dollar riding on the game.  This means there will be no holes in the wall, no sulking in the corner as the game winds down, no need to call my credit card company at half time in order to find out how much of my balance is available for a cash advance, and no need to apologize to my girlfriend after turning into Nicholas Cage from Leaving Las Vegas.
2) I love chicken wings, pigs in a blanket, nachos, and the other artery clogging deliciousness that covers the table on Super Bowl Sunday.
3) The Jets are not involved.
4) Green Bay is involved in Super Bowl XLV, while Brett Favre is at home and involved in a Super Sex Scandal.
5) There is a chance that Steelers LB James Harrison decapitates someone.  Then rips off his helmet, throws his jersey in the stands, walks off the field screaming "That's how I play football!!", and is never seen again.
6) If styles make fights, we could be in for one of the all time greats. 
7) Jets fans are not involved.
8: Everyday brings us a little closer to a breaking report from Dallas that includes the words Roethlisburger, Underage Girls, and a buffalo, live or stuffed, preferably stuffed for safety's sake…
9) Super Bowl XLV features men like Steelers C Maurkice Pouncey, who is hell bent on playing with a mangled ankle that he can barely stand on.  Not men like Jay Cutler, who sat out with a knee that was healthy enough to ride a bike.
10) We get to see a quarterback on the cusp of greatness taking on a terrifying defense on the biggest stage with a chance to cement his legacy.  There is also a chance Aaron Rodgers vomits all over himself and cements his place next to Jake Delhomme and Donovan McNabb. 
11) It gives me a chance to run into one of those "I think the commercials are the best part of the Super Bowl" ass clowns and punch them right in their stupid monkey face. 
12) There is a rumored secret addition to the halftime show; Clay Mathews and Troy Polamalu jousting American Gladiator style while the Black Eyed Peas cover "There's No Easy Way Out".  The loser of the joust will be forced to let Fergie shave their head. 
13) Roethlisburger could end up in trouble because of a BJ.  BJ Raji.   
14) There is nothing more fun than watching Hines Ward lay out a linebacker. 
15) Except watching Troy Polamalu's fly around like Jimmy "Superfly' Snuka.
16) I have a beard boner for Brett Keisel. 
17) Ben Roethlisburger can break the tie between Super Bowl Rings and Sexual Assault Allegations.  I don't actually care which one happens first.  I just need there to be a winner. 
18) His deviance makes it easy to root against Big Ben.  But there is no QB tougher to bring down than Roethlisburger and no one better at creating plays from nothing.  It makes him fun to watch.
19) Aaron Rodgers making at least two or three "Holy Sh*t did you see that" throws.
20) Rodgers ducking under a Polamalu blitz like Sunshine did in Remember the Titans.
21) An embarrassed Polamalu breaking James Jones in half on the next play over the middle. 
22) Charles Woodson, one of the best cornerbacks of all time, trying to check Mike Wallace, arguably the fastest guys in the league and the Steelers one downfield threat.
23) Did I mention that the Jets weren't involved?
24) The possibility that the Packers, unable to run the ball, go to a five wide receiver set and let Rodgers draw up plays in the dirt. 
25) Both teams have impassioned fan bases that aren't considered terminally obnoxious, like those of New York, Boston, and Philadelphia.
26) Rodgers and the Packers Offense, unstoppable against the Falcons inside the Georgia dome airing it out against a Steelers secondary that is the one potential weakness of their defense. 
27) The Steelers, who can't match the offensive firepower of the Packers, will bust out their complete arsenal of trick plays.
28) There is no forced animosity between the Packers and Steelers.  No attacking of anyone's mother.  No real hostility.  You know why?  These two teams don't need to pump themselves up with mock bravado in order to bring their A game.  They come out and punch you in the mouth, then shake your hand afterward.  It is an old school mentality that is refreshing in today's NFL.
29) Rich people control football.  They love money as much as the rest of us love throwing on a jersey and watching our favorite team play every Sunday.  When rich people argue with other rich people, such as over healthcare reform, its regular people like us who suffer.  So as the league seems to be heading for a lock out next year, the reason I am the most excited for Super Bowl XLV is it could be the last NFL game I get to see for a long time.
  Check in Thursday and Friday for a complete breakdown of SUPER BOWL XLV.