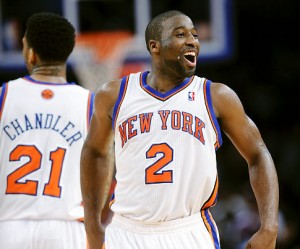 There has been enough said, written, and screamed about Carmelo Anthony in the last few days so I am going to give you a break.
*******************************************
The real story of Carmelo's trade to the Knicks, as it pertains to this season, is Raymond Felton. Don't get me wrong, I think the Knicks made the right move. Carmelo and Amare Stoudemire are great players, and they will probably earn a banner or two to hang up in the Garden. Just not this year.
Miami and Boston are too good to be beaten by two great players and a D League supporting cast.
Raymond Felton is a good NBA point guard. Unfortunately for him there is a log jam at the top of the best PG in the league. But after Rondo, Rose, Westbrook, Paul, Williams, and Nash there is no one I would rather have running a playoff caliber team. Felton is a stocky hardnosed player who has shown the ability to play his best basketball since being given the keys to its biggest stage.
Now he's on the Nuggets, who already have a talented young point guard in Ty Lawson. And George Karl has said Lawson will be the starter. I don't believe Felton will take to a back-up role after running point in Manhattan.
Most experts don't believe he will be in Denver long enough to unpack. So the question is where does he go?
The most logical, and terrifying option for this particular Celtics fan, is the Lakers. Derrick Fisher is past his prime and Felton has the talent, and NBA experience to command respect from Kobe, Gasol, and Co. He is also a pass first point guard who knows how to score in the flow of an offense.
A Laker team with a point guard who actually knows how to distribute the ball is a scary proposition. Scary indeed.
The Knicks are always on TV in New York and since I can't always watch my Celtics, I have tuned in for a few Knicks games this year. I commented to a Knicks fan friend of mine that Felton, with his cocky, swaggering style, was a perfect fit for the Garden. He reminded me of Marc Jackson, but with athletic ability.
Watching him bounce up and down the Garden floor this year has been fun.
Watching him do it in the NBA finals against the Celtics, wearing that vomit inducing purple and yellow wouldn't be.