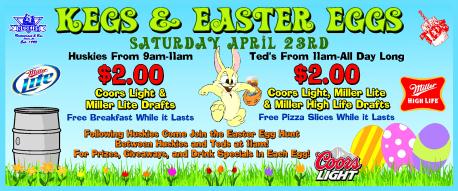 There are quite a few things that a miss about college…
A dining hall equipped with a waffle maker and an omelet station on the weekends.
150 person classes that didn't take attendance.
The # 3 combo at Lizards Thicket (Fried Chicken, Mashed Potatoes and Mac N Cheese) with an extra large sweet tea.
The all day tailgating bonanzas with things like wamboozie and pink panty pull down, oh and the Gamecock football games that inevitably followed.
$1 Drafts, $2 Pints, $2 Jim Beam, $2 Pitchers, and 10 cent wings which could all be found on any given night in Columbia, South Carolina.
I could go on and on.
Well I may not be in college any more, but this Saturday, at UCONN's best bar, those of us who aren't can mix with those who still are for a good old fashioned Easter tradition…
That's right kids.  Kegs and Easter Eggs is back at TED'S!!! Starting at 11 am you can enjoy $2 Pints and Free Pizza.
The password this Saturday will be Brown Bunny.