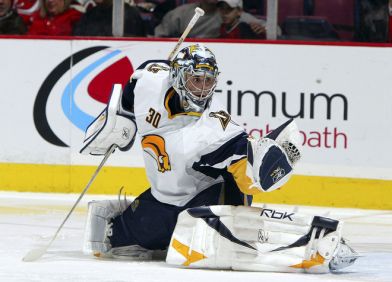 I'll admit it…
I was out with some buddies and may have gotten a bit to drunk to be coherent and write a recap for Game 3. Flyers won, and despite looking like they were trying to keep up a panicked pace for the back end of the first period, they slowed the game down and took control. Good game out of the Flyers and they took a win that they needed.
Game 4 mirrored game 1 in many respects. Both goaltenders played amazing hockey. The Sabres just snuck one in. I mean Boucher really impressed me-when he came in for Bobrovsky, I expected him to play well and be steady, but he practically went save for save with Miller….even a crazy alley oop pass to himself, Tyler Ennis break away:
http://video.nhl.com/videocenter/console?hlg=20102011,3,124&event=BUF1019
There was lots of good hockey, interrupted by lots of bad officiating…and I'm not just bitching that the Flyers got jobbed and always got the short end of the stick. It went both ways, though being a fan of the Orange and Black, I can more easily point that out. Perfect example for me is the 5 minute major that Jeff Richards got tagged with. Kaleta was coming and he put up his arm to defend himself. I'm not saying he shouldn't have gotten a penalty-the elbow was clearly up-but a 5 minute major usually has to clearly show the intent to injure. I don't think that was there, and it broke up the good run the Flyers were on. Some Sabres fans have said that the fact that they were blanked on the power play shows that it didn't matter, but I disagree. It forced the Flyers to play back, be more defensive and protect their zone. It din't allow them to flow forward.
Mike Richards quote via CSN Philly:
"He [referee Francois St.Laurent] wouldn't give me an explanation," said Richards, controlling his anger. "When you're allowed to get away with murder out there and we get called on the Car Bomb [Dan Carcillo], every time he is on the ice. It's frustrating. We have to battle through it."
It's getting angry and chippy out there. I just hope the refs let the guys play the game and let the players stay on the ice to battle this out.
All of that said, Miller stole another game, and I hope he slips in the shower and breaks his elbow.
—-Mike from Philly