With the NBA draft less than a month away, I will be posting a Mock draft every Friday afternoon.
Here are the first ten picks.  Enjoy!
1) Cleveland Cavaliers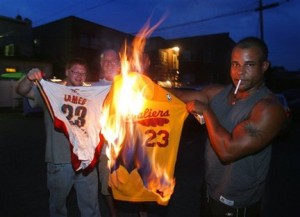 At what point do we send FEMA in to help the good people of Cleveland? We need to at least call in the Good Samaritans right?
They "won" the first and the fourth picks, in the worst draft in decades. (Note: The quotes aren't an indication that I believe the lottery was fixed. It merely reflects my opinion on how bad the class of 2011 is.) This is like getting your pick of all the girls in a strip club, with the caveat that you pick from those working on a Monday afternoon.
Pick: Kyrie Irving – PG Duke. Would free up Baron Davis to score more, assuming he doesn't die challenging Eddy Curry to an eating contest.  The Cavs could go with Derrick Williams if they are sold on a backcourt of Baron Davis and Mo Williams, but since its the NBA, and not NBA Jamz, that seems unlikely.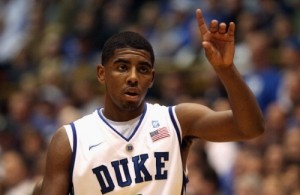 2) Minnesota Timberwolves
Should the Timberwolves even get a pick after botching their last few drafts so badly?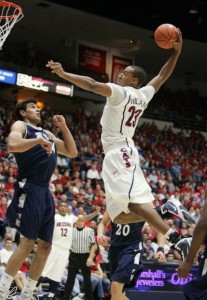 In 2009 they selected Ricky Rubio and Johnny Flynn with the 5th and 6th picks. Both are PGs. If that wasn't perplexing enough, look at the players they passed on; Stephen Curry, Brandon Jennings, Jrue Holiday, Ty Lawson, Jeff Teague, Eric Maynor, Darren Collison, and Toney Douglas. There are all, you guessed it, point guards. Curry and Jennings have turned into quality scorers, while Holiday, Lawson, Teague, Maynor, Collison, and Douglas all played for the point for playoff teams this year.
Last Year they turned three first round picks into two subpar small forwards.
Pick: Derrick Williams – F Arizona. Derrick Williams, and a few NBA insiders desperate to drum up some hype for the draft, have compared Derrick Williams to Blake Griffin. That is cuckoo crazy talk, but he is the second best prospect in the draft. I personally think the pick should be donated to charity to help all those affected by David Khan's bad decision making.
3) Utah Jazz
They are moving in a different direction in Utah, so you have to think that they will start by taking a PG to replace Deron Williams. They got Derrick Favors and Devin Harris in the Williams trade. Harris is more of a score first point guard who would benefit from having someone else facilitate the offense.
Pick: Brandon Knight – PG Kentucky. Knight is similar in size and playing style to Harris but more of a natural point guard. Gives them a tall athletic backcourt to play around Al Jefferson.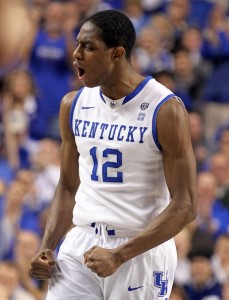 4) Cleveland Cavaliers
You know what the Cavs need? A seven footer from Turkey!
Pick: Enes Kanter – C Turkey. Ordinarily I would be against this kind of pick in the top 4. However, there isn't a sure fire NBA star in the draft, so why not draft some size, bring in a retired low post player, like the Magic did with Patrick Ewing, and give the Turk a shot at developing?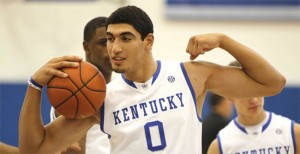 5) Toronto Raptors
The Raptors need rebounding help and they need to get tougher as a team. I think that Derrick Williams, with his inside out game, is a good fit for the way they run their offense but it's doubtful he will be available.
Pick: Tristan Thomas – PF Texas. Putting Thomas in the front court, along with Ed Davis and Reggie Evans, will give the Raptors some presence down low. It will also free up Bargnani to play on the perimeter, where he is more effective.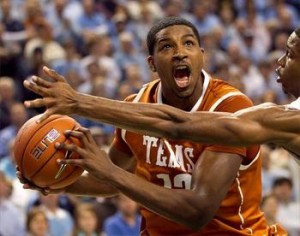 6) Washington Wizards
Yikes. The Wizards roster is like a cautionary tale, with Rashard Lewis, Yi Jianlian, and Josh Howard. There are some good pieces there, most notably a back court of John Wall and Nick Young, but after that it gets bleak in a hurry. Javale McGhee and Andray Blatche would be the only other two players I would keep if I was the Wizards GM. I would also change them back to the Bullets, but that's just me.
Pick: Kawhi Leonard – F San Diego State. Would make a good fifth piece in a starting five alongside Wall, Young, McGhee, and Blatche. He plays solid fundamental basketball, and would be able to get out and run with Wall.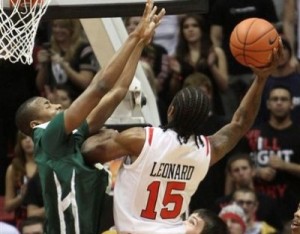 7) Sacramento
I had started this with, "Anyone who think Kemba Walker should go here is a moron. They already have a score first point guard in Tyreke Evans, and Walker doesn't fit at all."
Well after a few minutes of thinking about it, I'm apparently a moron. Walker took an unheralded group of freshman and carried them to Big East and National Championships. He did it with scoring, but he also made the team better. His play created a team. That is exactly the kind of influence that the Kings need. Kemba won't demand the ball, wont pout if he doesn't score 30 a game, and he will have a solid impact on Evans and DeMarcus Cousins.
Pick: Kemba Walker – G UCONN. A starting five of Evans, Walker, Marcus Thornton, Cousins, and Samuel Dalembert, then bring in Garcia, Udrih, and Thompson with Walker running the point for the second team and they would score a ton of points. They wouldn't be as solid defensively and would get exploited by guys like Lebron and Durant, but they remind me of Allen Iverson's 76er team that made it to the finals.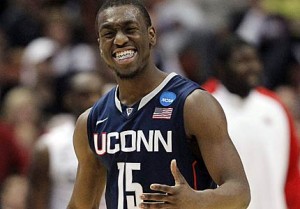 8 – Detroit (8 with a ) next to it turns into an stupid emotiocon…grrr)
Not a lot of good things to say about a Pistons roster that has more holes than a Jim Tressel explanation of alleged violations. They have guys who can score the ball (Rodney Stuckey, Tayshawn Prince, and Ben Gordon), but have no one to distribute it, and no one to rebound it. Other than Stuckey, no one averaged more than 4 assists per game, and only Greg Monroe pulled in more than 7 rebounds a game.
The best possible starting five would be Stuckey and Gordon at the guards, Prince and Villanueva at the forwards, and Monroe at center. In an Eastern Conference that is won with hardnosed defense, that is a real soft starting five.
Pick: Trade this pick, Jason Maxiel, and your first pick in 2012, to the Lakers for Andrew Bynum. The guy may have proved he was a punk and a cheap shot artist, but he would bring immediate toughness to the front line. The Pistons don't mind punks or cheap shot artists. Just ask Rick Mahorn, Bill Lambeer, Isiah Thomas, and Dennis Rodman. Now your starting five would be; Stuckey, Gordon, Prince (at the 3 where he is more effective), Monroe (an excellent passer for a big man), and Bynum. That's at least good enough to make the playoffs in the East.
9) Charlotte
Pick: Jonas Valanciunas – C Lithuania. With Stephen Jackson, DJ Augustin, Boris Diaw, and Tyrus Thomas, the Bobcats have four good pieces. Adding a 6-11 240 pound center to those four and maybe you have something. There isn't likely to be a more impactful addition in the draft available at this point and NBA exec's love size.
10) Milwaukee
If Michael Redd resigns and can get back close to the form he showed before shredding his ACL, the Bucks have a solid nucleus. Redd, Brandon Jennings, and John Salmons would give defenses fits and would really thrive in an inside out game with Andrew Bogut. There are some good pieces on the bench as well; Corey Maggette, Drew Gooden, Luc Mbah a Moute, Chris Douglas-Roberts, and Ersan Ilyasova are all solid role players. The major hole is at the power forward position.
Pick: Jan Vesely – F Czech Republic.  Has the size and versatility to thrive in the Bucks offense.