The Fat White Guy Network presents an exclusive interview with UConn Baseball Catcher Doug Elliot. Elliot took some time just a few hours before the Huskies take the field against Notre Dame in their first game of the Big East Championship tonight at Bright House Field in Clearwater, Florida.
FWG Intern Chris Hall: Doug, good to have you my man. I first have to ask, where did the nickname "Moose" come from?
Moose: Haha yea, it has become nickname after one of our announcers just gave it to me last year. It most likely comes from being one of the biggest guys on the team, and also having the typical blazing speed of a catcher.
C: How does it feel to grow up as the son of former Husky baseball standout Doug Elliot, and end up playing for the Huskies as their catcher 30 years later?
M:  It was always my dream growing up to be a Husky like my dad because I grew up going to the  games.  When I got to UConn, it was a really cool feeling catching on the same field that my dad caught years ago.  The best feeling was being able to take our Big East Championship photo with the alumni, including him, two weekends ago.
C: Double question, will Papa Elliot be in attendance at tonight's game and what was his nickname?
M: Yes, Pops will be in attendance tonight. He will be roaming around the stadium, because he doesn't like to sit in one place during the game due to nerves or superstition.  No animal nicknames for him, just the classic "Pops".
C: What have you guys done as a team since your arrival in Florida besides practice for tonight's game?  Clearwater Beach? Mini Golf? Concerts? Aggressive snuggling? All of the above? Don't hold back…
M:  We did get a chance to check out Jason Aldean and Eric Church back in CT on our off day this past weekend but once we got to Florida it has been all business so far.  Our days have mostly consisted of team breakfasts and the UConn Baseball past time PBN's or Post-Breakfast-Naps.  A few of us have been hitting up some of the lakes and streams around our resort for some bass fishing here.  Most of the guys bring down their gaming systems so plenty of Call of Duty and The Bigs has been played.
C: A lot of us saw the recent YouTube video of the Radford Baseball squad and their attempt at a rain show during a delay but does it compare to the original dance-off between UConn and South Florida back in 2009? Do you have a favorite routine and were you apart of any of the shenanigans that took place?
M: Hah! We always take pride whenever we see another copy rain delay video.  Ours was truly spontaneous and just epitomized the characters we had on that team.  No one had done a true dance off like that before. Sure, the new videos may be more creative, but the originals are always best.  I think my all time favorite has to be the upside down man routine.  Our ace of the upside down man has to be Dave Fischer who did it in the 2009 video.  Personally, I stick to coming up with the shenanigans because Moose don't dance.

C: What are your favorite pre-game and post-game meals?
M: My favorite pre-game meal would be a traditional peanut butter and jelly. I don't like to play on a full stomach so I like to just eat a light meal before getting to the field and then maybe an apple or orange before batting practice.  My favorite post game meal would have to be anything that is already cooked haha.  I'm pretty beat after most games and am lucky to have a great girlfriend who almost always has a meal when we get back from the games.  She cooks a great chicken cordon blue which would have to be my favorite.
C: What's the clubhouse like? Is there a team comedian? Team mother?
M: Clubhouse is filled with characters.  We've got a bunch of personalities that make anything fun lead by a bunch of comedians including Hurval, Glynn and Vance.  No team mom but we've got a team grampa in Bob Van Woert whose pushing 30 years old(just kidding, only 24).  Every guy on our team has a unique characteristic that makes them fun in like our Techno boys(LJ, Zaccardo and Moore), team photographer(Vance) or our team meatheads (Andreoli and Pavone).
C: Have you guys done anything such as team building for this post season play? Play-off beards, hair-dye, mustaches, shaved heads, or is that played? One year my soccer team did bleach blond hair. We all looked like a bunch of Eminem's out there.
M: We've done the beards and mustaches before and they haven't brought any luck. We have even done Canadian Tuxedos for team meals but again no luck. This year were just going in to try and take care of business as the #1 seed.  As long as we play within ourselves and limit our mistakes we should be alright.
C: What has been your favorite play of the Huskies magical run in the 2011 season that you feel has defined the season for you guys? (if more than one, make a top 3?)
M: I think our season changing moment came against St. John's. We came back and walked off against them with a pinch hit at bat from Tim Martin, and a game winning hit from LJ Mazzilli.  We had some struggles after that, but that weekend set the tone in the Big East after sweeping St John's and starting 5-1 in the conference.
C: What do you think the key match-ups are for tonight?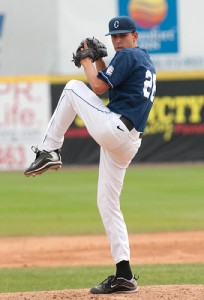 M: Since all teams throw their top pitchers game one, its gotta be the starting pitcher match up tonight.  Our #1 and future first round draft pick, Matt Barnes, will be throwing for us against a very solid Brian Dupra out of Notre Dame.  We got to him in our regular season match up but he has been a top pitcher for four years in the Big East. Runs will be at a premium so we have to scratch a few early to get a lead and hold on.
C: What would a Big East Championship Tourney and birth to Omaha mean for this UConn Huskies baseball family and University?
M: Those would be unbelievable.  We always set our goals at the beginning of the year with both of those and a regular season title. We've got the first one already and our next goal is the Championship Title. Bob Van Woert and Greg Nappo and me have been to the Big East Championship three times, and reached the title game all three times. However, we lost all three.  This year seems like the year we finally get it.  Once, we take care of that we will hopefully set our sights on climbing the ranks to Omaha.
C: Who would win in a fight, a Husky or a drunk Irishman?
M: No question, a Husky without a doubt.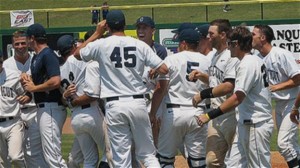 Special thanks to Doug "Moose" Elliot for taking time out to give us an inside look at UCONN Baseball and The Big East Championship.  Hopefully we will hear from again in the coming weeks as the Huskies make a run at Omaha.