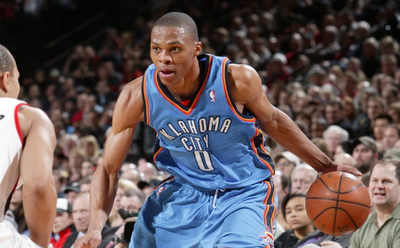 In the Weekend Recap yesterday I tried to help the Oklahoma City Thunder help themselves.
They didn't listen.
The Thunder scored 59 points in the first half, but managed only 46 in the second half and overtime. They ignored my suggestion of giving Eric Maynor more time at the point (he played 11 minutes), and were done in by not being able to run an effective offense down the stretch.  They were more stuck than The Beast in Ireland.
When you're up against a player as hot as Dirk is right now you need to be able to score consistently. The guy is on an unbelievable tear and at some point you have to realize he is going to get his, and figure out how to get yours.
I'm not going to pile on the guy after what has to be one of the worst loses in his life, but Russell Westbrook taking 22 shots isn't giving the Thunder their best chance to win. A point guard is supposed to facilitate the offense. He is not supposed to shoot 31.8% from the field and turn the ball over six times. Westbrook also had eight assists and eight rebounds, but compare his line with Jason Kidd's; 17 points, 5 rebounds, 7 assists, and 4 steals and only 3 turnovers in 41 minutes.
Kidd only took 9 shots. In fact Dirk was the only Maverick player with 20+ shot attempts. Jason Terry attempted 19 but the guy is a gunner, and is coming off the bench to score points. He isn't the one charged with running the offense and getting his teammates involved. Russell Westbrook is.
I'm not saying that Kidd is a better player at this point in his career, but if you put Kidd on the Thunder, and Westbrook on the Mavericks, this series would be 2-2 or 3-1 in favor of Oklahoma City.
If that was the case, I'm not sure Jim Carey would be any better than Scott Brooks at pulling Westbrook off the point in favor of JJ Barea, but Kevin Durant and James Harden would be averaging 30+ each with Kidd getting them the ball.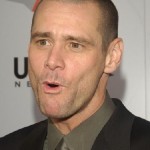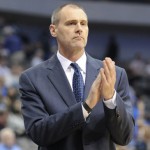 What you didn't realize that Jim Carey was coaching the Dallas Mavericks? Step your game up.
A good point guard scores within the flow of the offense. He doesn't bog the offense down by forcing his own shots.
As I said yesterday, Russell Westbrook is a great basketball player, but he is not the kind of point guard you need in order to win a championship.
Even at the age of 38, and playing in his 17th NBA season, it seems that Jason Kidd is.
And that's why his team, and not Russell Westbrook's, will be advancing to the NBA Finals.
——Corey