Well it's official.
Summer is here.
I don't want to hear any of that "summer solstice" nonsense either. You know how I'm so sure that the interminable winter of 2010/2011 is finally over?
People are no longer complaining about it being cold, and have already started complaining about it being too hot. For the record, I won't complain until the sun parks itself in my living room, and melts all my furniture.
In honor of all those people complaining, no matter how good or how bad they have it, I'm rolling out a Lebron James Edition of the Weekend Recap.
See what I did there?
************************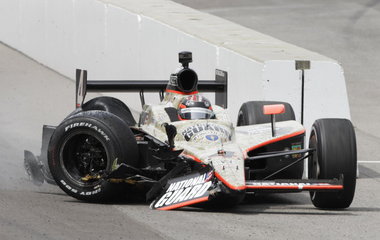 I crashed my Jeep when I was in high school.
It cost me $2000 dollars and a trip to a psychiatrist.
My dad assumed that I must be on drugs to have driven my car out into a blizzard after being expressly told not to leave the house.
I wasn't, unless you count stupidity as a drug.
J.R. Hildebrand lost $1.5 million by crashing his car on the final turn at the Indy 500 on Sunday. Hildebrand replaced Dan Wheldon, who took advantage of the rookie's mistake to win the race, behind the wheel of the National Guard car in 2010. Wheldon was looking for work going into the Indy 500, and joked that he was going to be the most popular guy on the unemployment line come Tuesday morning.
I feel Hildebrand's pain. $2000 to a high school kid is the equivalent to roughly $1.5 million to a professional Indy car racer.
I just hope that his dad doesn't think illegal narcotics were to blame.
***********************
THE Ohio State University announced that it will be offering a new degree program this fall.
Incoming freshman can now pursue a B.S. in How to Cheat Fans and Influence Investigations.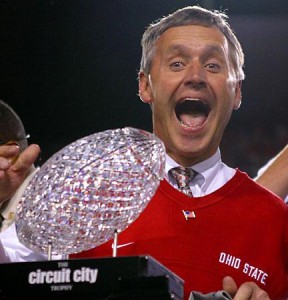 In addition, they can also apply for a couple of scholarships to help fund their academic pursuits. There is the Jim Tressell Scholarship for the young man, or woman, who shows proficiency in deceiving authorities, encouraging and condoning corruption, and hiding all of these qualities behind some form of harmless, country club attire. Tressell declined comment after hearing the news that the scholarship committee chose him over a long list of other candidates, including OJ Simpson and Enron.
The Terrelle Pryor Scholarship will be awarded to one lucky freshman who ruined their high school career by any of the following deviations from upright behavior; selling pot, taking bets on field hockey games, selling used athletic equipment, or accepting cars, tattoos, or houses from anyone who said they are a "friend" of the program. The caveat being that they are freakishly talented in some way, and that allows them to still draw national interest despite the impropriety.
***************************
At least now we all know how Qatar (pronounced Cheater) managed to get the 2022 World Cup.
***************************
It seems that Dwight Howard spent his Memorial Day Weekend watching Rocky IV.
As he told the world that he will not follow in Shaq's footsteps, or anyone else's for that matter, and wants to make his own path, he basically told the city that if he can change, everyone in Orlando can change.
I admire Howard's intentions. It is noble to hear a superstar say they want to build their own legacy, on their own terms. Even more than that, I appreciate his attempts at rallying the city of Orlando to his cause by imploring them to abandon the small market mentality that is hindering their title hopes.
I will try and remember all these warm feelings when I am booing Howard in the puke inducing purple and gold, of a Lakers uniform.
*************************
To all the men and women out there who have fought and died for our country;
We may complain about it being too cold or too hot, and spend inordinate amounts of time bitching about sports, but none of that compares to the sacrifices that you have made over the years in order to protect us.
I might be a day late, but I truly appreciate it.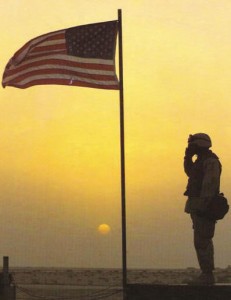 ——Corey