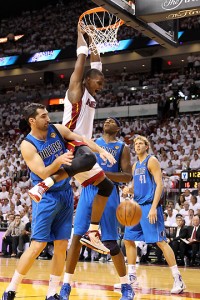 I have spent a lot of time criticizing Chris Bosh this year.
Things like;
You're a perfect example of an overrated NBA superstar who thrived on a bad team, and got paid because of it.
There are squares of Charmin ultra soft that are tougher than you are.
Stop demanding the ball, and just be happy your big brothers invited you on their triple date.
You're a reminder of what would happen if a giraffe had sex with a cat fish, and spawned a mutant child.
All of those things are probably valid, especially that last one there, but for the last month Bosh has been playing at such a high level that it needs to be mentioned. Whether it took time for him to find his place in the pecking order, he is just getting easier looks because of Wade and Lebron, or maybe he was just Celticing (waiting for the playoffs to try and turn it on), it has been pretty impressive.
Last night he carried the Heat to start the game and at times, appeared to be the best player on the court. When it came down to crunch time it was still a two man show, but if they can add a consistent performance as an opening act, the Heat will be just as tough to beat as we all thought they would after The Decision.
Imagine if Jay Z and Kanye played a concert together. But before they hit the stage, they got Questlove from the Roots to perform a sick fifteen minute drum solo to get the crowd warmed up. It would be one hell of a concert right?
Well that's the kind of show the Heat are putting on right now. And as much as its kills me, it's going to be really hard to stop.
—-Corey