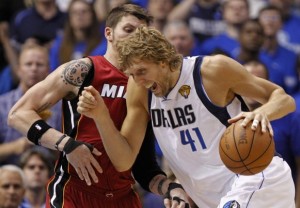 Let's pretend, just for a minute, just to see how it feels, that it's the fourth quarter of an important NBA playoff game. That way we don't have to talk about Lebron James, at all.
The Mavericks took down a wildly entertaining Game 5 last night because they made shots. Dallas shot 56.5% from the field and over 68% from downtown, against the vaunted Miami defense. Dwayne Wade said, after the Heat took Game 3 in Dallas, that they wanted to win a game with their defense. And they did just that.
Now he can say that they lost one because of it.
Wade continued to erase any lingering doubt over whose team it is with a gritty performance. He led his team in scoring with 23 points, despite being limited to 34 minutes.
The Heat got a few solid contributions from the Wade's supporting cast, most notably Mario Chalmers, but in the end, the story of Game 5 isn't just the offensive explosion.
For much of the game it seemed like the Mavs were blowing Miami out. Every time they touched the ball they scored. Whether they were open, which they were for much of the night, or throwing up contested shots, it didn't matter. Everything dropped.
The problem is, that even with this lights out performance, and Dwayne Wade out of the game for extended periods of time, the Heat hung around.
The reason?
Dallas doesn't play great defense.
They allowed Miami to shoot almost 53% from the field, and stay in a game that they had no business being in. As fun as it was to watch, Game 5 proved that Miami is a better team.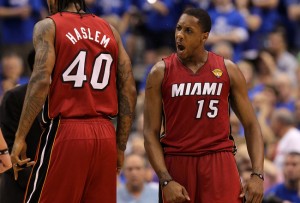 The play of Wade has rubbed off on Bosh, Chalmers, Mike Miller, and Udonis Haslem and they have become better players by osmosis. Perhaps they are filled with confidence knowing they have a superstar to pick them up, and are free to just go out and play basketball. I saw the same thing happen with the Celtics in 2008 with Eddie House, Glen Davis, James Posey, Leon Powe, and PJ Brown.
We all saw it happen with Jordan's Bulls.
Whether that greatness can actually rub off, like wet paint on a stairwell, leaving its mark on anyone who brushes against it, or it is fear of letting down a superstar teammate who isn't afraid to get in your face pushing them to excel, the result is the same.
The Heat are now a good team with solid role players, two very good players, and one player who wants to be great.
What seems more likely to happen again; Jason Kidd, Jason Terry, and JJ Barea going 10-15 on three balls, or Miami's defense holding the Mavs to 40% from the field and 38% from downtown, as they did in Game 3?
This was the only game of the series where either team went over a hundred points, and since only one team needs that kind of output to win, that is the team that I think is in trouble.
I don't like the Heat, and I hope Dallas can pull out a victory in Miami. In fact, I don't think I have ever rooted harder for a team that I wasn't a fan of unless there was money involved.
But it took everything in their arsenal to win Game 5. They had the same kind of output against the Lakers in Game 3, then had the benefit of playing a team that had, as a whole, Roberto Duran-ed before Game 4 even tipped off.
I don't see Dwayne Wade allowing his team to rollover, and let the Mavericks scratch their belly's the way that Kobe did with the Lakers.
Just as I managed to do in this post, the Heat will succeed without a major contribution from Lebron James, and will win Games 6 and 7 the same way they won Game 3, with their defense.
NOTE: I haven't placed a bet in a long time, but as anyone who knows my gambling track record can attest, there's an excellent chance that I just gift wrapped a ring for Dirk and Co. by picking the Heat.
Let's hope I'm a big enough mush, and that I just jinxed all over the Moheatos title hopes.
Just in case that's not enough, here's a video of Wade, and some guy who has repeatedly disappeared from the court during playoff games, a minor miracle given his size and skill, mocking Dirk Nowitzki to provide some more fuel to the Mavericks fire.
——Corey