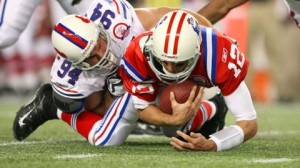 What the hell happened last night?  In some complete and total karmic-cosmic retribution, the Bills managed to play themselves out of a win over the Pats last night.  Worst part? I was at the game.  I am an unabashed Buffalo fan, and as we jumped up on the Pats with 4 minutes left by two possessions, I literally turned to my former teammate Yianni and said, "Alright bro, no repeats of Bills-Cowboys Monday night from last year."  I don't know why I said it, but  I did.  And just like that, the meltdown began.
15 points in the 4th quarter?  A stiff, even more immobile Tom Brady engineering the win? Buffalo's  Leodis McKelvin seemingly pondering taking a knee only in a cruel twist of fate deciding to take the ball out of the endzone and promptly turn it over to the Patriots?  Welcome to Bill's football.  If we have learned anything from this, it's that football is a cruel mistress, and being a Buffalo Bills fan is slowly  becoming the football equivalent of rooting for the Red Sox:  It's not that they lose, it's that they manage to do it in such a spectacular, heart breaking fashion.
side note:
I was fortunate enough to meet some of the Bills players after the game.  I saw former Louisville player, Eric Wood.  Eric and I matched up two seasons against each other.  Yes he remembered me.  And no, he couldn't have been more gracious.   Excellent draft pick there.