I would like to say that I have been a die hard Bruins fan all my life.  I'd like to be able to tell you that I rooted hard for them all season.  I'd like to tell you that, but my fandom isn't a fairy tale world.
Truth is, I started getting into the NHL playoffs in the first round, and supported the Bruins because they are from the same town as the Celtics, Red Sox, and Patriots.  Over the course of the playoffs I became familiar with all the players, even picking out a few whose style of play turned me into a fan; most notably Brad Marchand.  My favorite thing about the 2011 Bruins was the fact that they played like a team, and they all looked like a bunch of guys from Massachusetts.
Anyone who has spent anytime time in the Commonwealth knows that there is a certain look to the guys there. Hooded sweatshirt, scraggily beard worn with immense pride, hair that is always allowed to go a little too long before a hair cut, some visible  form of scrape or bruise, and eyes that vacillate from kind to homicidal in the blink of an eye.
They are a relatable bunch of guys, to a kid from Cape Cod anyway, and they helped me become firm in my stance as a Bruins fan, and a hockey fan for that matter.  Maybe I won't watch every regular season game next year, living out of market it's next to impossible to catch them all, but I will pay a little more attention than I did this year.
If there is one thing we can all love about sports it's that they unite us for a common goal.  Even those who don't like sports, can feel a sense of pride knowing that their home town team has made history.  That team, and that moment in time, belongs to all of us, and always will.
If you need more proof, look no further than the pictures below.  They are from my younger sister who isn't a sports fan.  Actually isn't a sports fan might be an understatement.  I wouldn't go as far as to say that she hates sports, we went to a Red Sox game together and she seemed to enjoy herself, but I will say she just doesn't have time for them.  There are far more important things in life, to my sister anyway, than sports, yet she felt compelled to snap some pictures of the Bruins taking the Stanley Cup for a beer.  She felt the need to get a picture with David Krejci, even though she had no idea how to spell his name (Sorry to call you out Shea).
Congratulations to the Boston Bruins for making history, winning the Stanley Cup, and making a fan, for a few seconds anyway, out of my younger sister.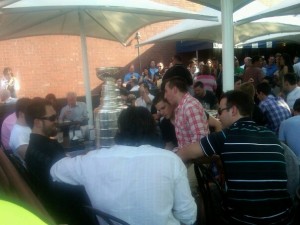 ——Corey