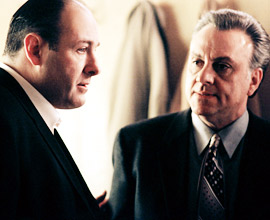 Remember in The Sopranos when Tony was beefing with Johnny Sack? They had reached a middle ground, when a off color comment about Johnny's wife made its way back to the New York boss' ears. The "fat" joke derailed peace talks and ignited a violent fued.
Well it appears history has repeated itself.
The NFL Lockout ended for all of five minutes earlier this morning when the two sides reached a tentative accord that would ensure football was played in 2011. That agreement was shattered into a million pieces when an unnamed NFL owner overheard Drew Brees, Mike Vrabel, and a handful of other players making jokes about his momma.
The rib that sent Owner X over the edge?
"His momma is so fat, she broke her leg and gravy came out." Apparently the owner's momma had been crippled in a car accident, and confined to a wheel chair for much of her life.
After hearing the joke, Owner X stormed out of the room and started making phone calls. One by one he convinced the other owners that they were giving in to easily, and needed to stand together. His impassioned pleas were so convincing that five and half minutes after the two sides had shaken hands, the lock out was back on.
No word yet on when they will resume talks.
——Corey