In order to complete the first round of my 2012 NFL Mock Draft at www.ultimatenfldraft.com, I will be predicting the results from a season that may not happen.  This haphazard hypothesizing allows me complete control over the order in which teams will be picking in 2012.
In other words, to quote one of my favorite extra terrestrials, I have absolute power.
Here are a couple of samples.  Enjoy!
Miami Dolphins.
Adding a quality C, and RB with All Pro potential will help the Dolphins running game.  But not adding a QB, and not doing enough to improve the defense, means they are content to rebuild in 2011.  That leaves me with no choice but to put them in the cellar, chained to a radiator, eating the Bills leftovers.
Record: 5-11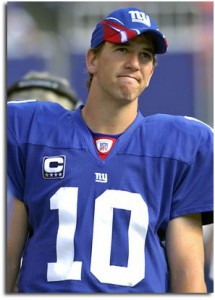 New York Giants.
The Giants had a stellar draft in 2011, highlighted by CB Prince Amukamara, even if it was a bit high for the former Cornhusker, he is a talented CB, and DT Marvin Austin.  They also got NFL ready talent at WR, OT, LB and S.  Add that to an offense that has dangerous WR's on the edges, and a proven running game no matter who is taking the hand offs, and the Giants should be excited about playing football in 2012.  They will only go as far as Eli Manning can take them though.  The 2011 squad could be more talented than the team that won the Super Bowl in 2007, so if they fail it will because Manning isn't ready to finally make the jump to elite NFL QB.
Record: 12-4
Pittsburgh.
The reason the Steelers are behind Baltimore is that I have some serious concerns about how the new rules are going to affect their defense.  It is a league-wide crack down on dangerous hits, but it seems like the Steelers are getting singled out more than anyone doesn't it? Telling guys like James Harrison and Lamar Woodley that they have to play football any way other than 110% on every play, isn't going to go over well.  I believe it will have an impact on them defensively, and that's why the Ravens get the edge.  That, and the fact that they passed on some top tier talent at the CB position, where they had a major need.
Record: 10-6
Chicago.
Jay Cutler still the QB in Chicago?  Ok then.  Third place it is.
Record: 9-7
Denver.
The Broncos botched the 2011 draft so badly that I questioned whether the Bills front office had somehow been involved.  Von Miller is a fantastic player and pairing him with Elvis Dumerville will give the Broncos a great pass rush.  But they got no help upfront, and they are heading into the season with Kyle Orton, Tim Tebow, and Brady Quinn as their potential QBs.  Can you think of any other team with three first round picks at QB, with less combined talent?  Well can you?
John Elway will get things turned around in Denver, but he is off to an auspicious start.
Record: 6-10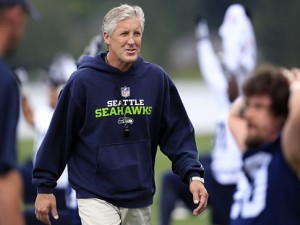 Seattle.
No QB help, no better than fourth place in a division where every other team got a little better.  Plus there has to be some karmic retribution for what Pete Carroll did, right?  It's like he met a girl, gave her that first cold beer, encouraged her to smoke pot, then try some freaky new sex stuff, then just a little coke to stay awake for class after being up all night, then convincing her to smoke heroin because it's not as bad without the needle.   Then once she had gotten strung out, lost a bunch of weight, got kicked out of school and arrested for solicitation, he dumped her and started banging her sister.
For shame Pete, for shame.
Record: 5-11 Bad.  But not bad enough to get the first overall pick so they can draft Andrew Luck.
If you like what you see here, visit us a www.ultimatenfldraft.com
——Corey