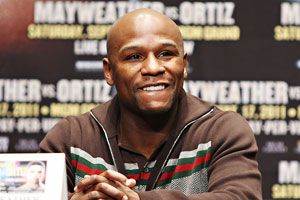 Floyd Mayweather wants to challenge Manny Pacquaio….to a thumb war.
After years of trying to stall the potential mega fight between the two best "pound for pound" thumbers in the world, it appears that Mayweather is finally ready to drop the gloves. Literally.
It is tradition before a big thumb war to wear gloves into the ring. That way your opponent doesn't see the pulsating, performance enhanced thumb muscles until he, or she, is in the ring. It is gamesmanship at its best.
Floyd says that he wants to take on the best, and that it has been his lifelong goal to beat the best. He just never specified when we would be taking them on, and beating them. He has bested some top flight fighters, but never anyone who was at that peak when the gloves came off.
By challenging Pacquiao, whose left thumb has been destroying the competition, it seems that 'Money' Mayweather is realizing that there is a difference between beating the best, and beating them at their best. I don't want to say that Pretty Boy Floyd has been ducking Pacquiao, but there has been a lot of quacking from his camp that we didn't hear around the pond as he trained for Marquez, Mosley, Hatton, or De La Hoya. Not one of those men presents the unique challenge, and devastating left thumb, that Pacquaio brings to the table.
So one has to wonder if it wasn't an attempt to duck the southpaw, what was the hold up?
According to Mayweather; "I keeps a private jet." When it was pointed out that this failed to answer any of the questions about his heart, Mayweather responded, "When you're young, black and rich, you go through things in life. But I'm a strong individual. I can survive through anything."
Anything it seems, except an English class.
It remains to be seen whether he will survive tangling thumbs with Pacquaio, but at least he is ready to talk about it. And with Mayweather, that's half the battle.
——Corey