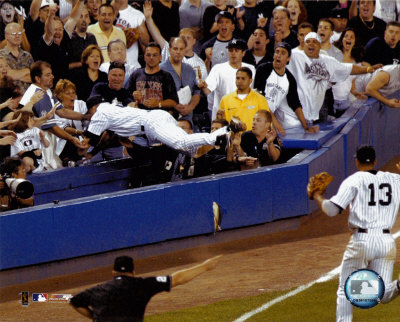 I met Derek Jeter once.
I was out at a club, one of only three times this has happened since I've lived in Manhattan, and he was in one of the VIP rooms. My girlfriend at the time, a Red Sox fan, and all her friends were trying to pretend they weren't gawking at him.  They were so entranced that none of them even bothered to argue when I muttered, "He's not even that good looking".
The truth is that despite being a heterosexual Red Sox fan, it was hard not to stare at the man. There was just something about him. The combination of jealousy, wanting to reestablish my manhood, and a love of random wagers forced me to challenge my girlfriend.
"50 Bucks says you won't go up and say 'Yankees suck! Go Red Sox!'" She scoffed and quickly accepted. Two minutes later when she returned to our table, I extended my hand.
"I'm not giving you shit." This reinforced my theory of never betting with girls, unless there is something involved in the stakes that is mutually beneficial, like sexual favors or dinner.
After doing the lion's share of the work finishing off the bottle of vodka we had been required to order, I decided I was going to go and pick up my lady's slack.
"Hey man," I extended my hand. "Just wanted to say thanks. You won me 50 bucks." Jeter smiled, shook my hand, looked me square in the eye and said,
"Can I get half?" We both laughed and I walked back to the table feeling a little dazed. What had just happened? Why hadn't I told him that the Yankees suck? I sat back down and collected my thoughts while the girls at the table looked at me, silently asking 'Well?'
"Fuck that guy is cool." It was all I could say.
As I watched Jeter blast his 3000th hit over the left field wall on Saturday, I couldn't help but feel the same way.
I hate the Yankees. I hate their fans. I hate their new gaudy stadium that isn't set up with watching the game in mind. I hate the way that the Red Sox are lumped in with those white devils just because we spend lots of money. But somehow I have never found a way to hate Derek Jeter.
The reason?
I love baseball, and no one has been a better exemplification of all that is good about baseball than Jeter. Many Red Sox fans claimed that they couldn't care less about Jeter hitting 3000. By the way, the fact that he did it with a homerun, in a game where he went 5-5 and drove in the winning run, only reinforces the fact that he is cool in a way that most of us don't even get to be in dreams. The reason that everyone should care is simple; It is one of the last times we will ever see a milestone like that.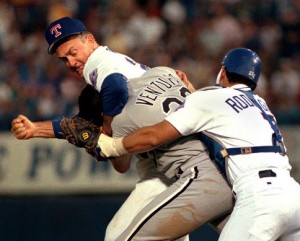 Homerun records don't mean shit anymore. No pitcher, in the new and improved nervous nelly era of low pitch counts, will ever get to 300 wins again. Pete Rose's 4,256 hits are safer than virginity at a Star Trek convention. No one is going to come close to Cal Ripken's or Joe Dimaggio's respective streaks, and no one will ever come close to replicating what Nolan Ryan did. If you don't know, you need to do your homework. The guy was throwing 100mph past the age of 40, even after a twenty seven year career.
Jeter might not be the last player to eclipse the 3000 hit mark, ARod could come close if he stays healthy, but Jeter did it without any performance enhancement, under the brightest lights on baseball's biggest stage. It could quite possibly be the last clean milestone we ever see.
Whether you are a Yankee fan, or hate the very air that they breathe, you have to appreciate that. Jeter was so talented, and had such a good work ethic, that a lifelong baseball scout told the Yankees not to worry about signing him. They had been worried that he might attend the University of Michigan instead of joining the Yankees.
"He's not going anywhere, except right to Cooperstown."
That much potential, and yet he remained humble, working his ass off every day for seventeen years. It is the kind of story, and the kind of career, that even a Red Sox fan has to tip his hat to.
Jeter is so loved, and so respected, that the man who caught his 3000th hit, rumored to be worth upwards of $300,000, didn't want any money. He just wanted to give the ball back.
While I would have given some serious thought to selling the ball, if there's one man in all of baseball who has earned the right not to have his history hocked to the highest bidder, it's Derek Jeter.
Congratulations to one of the best to ever play a game.
Hopefully you have all of October to relax, hang out with Minka Kelly, and enjoy the enormity of your success.
——Corey