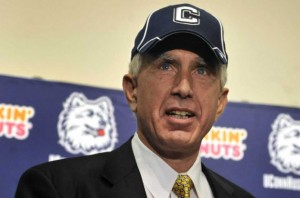 The 2011 Big East Conference poll came out on Tuesday, and the UCONN Huskies, with new head coach Paul "George W Bush/Will Ferrell's bastard love child" Pasqualoni, find themselves ranked 6th.
The rankings aren't too surprising as all five teams above the Huskies have elite players coming back at QB, or RB, or both.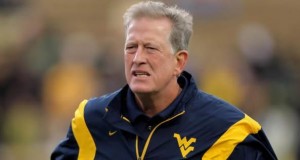 West Virginia, despite a coaching fiasco that saw Bill Stewart shoved aside like an anorexic girl at Old Country Buffet, has QB Geno Smith coming off a season where he threw for over 2700 yards and 24 touchdowns.
South Florida, who has turned a corner under head coach Skip Holtz, have a dual threat QB in BJ Daniels, to go along with their stellar D. Holtz has demonstrated the coaching chops that would make his legendary father proud. If only Lou were still coherent enough to remember he had a son.
Pittsburgh returns QB Tino Sunsieri and RB Ray Graham, who should both thrive under new head coach Todd Graham's offensive system. Graham's spread should be able to lay waste to Big East D's not exactly known for their toughness.
Syracuse has starting QB Ryan Nassib coming back, and despite losing stud RB Delone Carter, they return their top five WR's and four starters along the OL. Doug Marrone has the Orange on the way up, and in a wide open Big East they should continue to improve.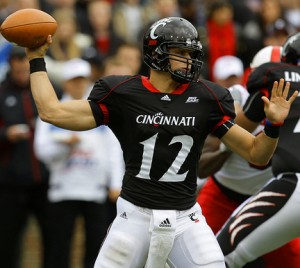 Cincinnati boasts perhaps the most talent at the QB position, and if Zach Collaros can display some of the game he showed a few years ago while spelling Tony Pike, the rest of the Big East could be in trouble. Collaros can hand the ball off to 1000 yard rusher Isaiah Pead, or air it out to DJ Woods who had just shy of 900 receiving yards last year, making the Bearcats a very dangerous offensive team in Butch Jones' second season.
That brings us to UCONN.
There are big questions at QB, with Mike Box, Scott McCummings, and FWG favorite Johnny McEntee all vying for snaps. Box, who is the only one who saw snaps in 2010, will probably be the starter, but if he struggles it could be a short leash with the athletic McCummings, and the talented McEntee waiting in the wings.
The Huskies have developed a proud tradition at RB under former head coach Randy Edsall, with Donald Brown and Jordan Todman at the top of the list. Edsall didn't leave the RB cupboard completely bare for 2011. USC transfer DJ Shoemate is very talented, but a bit fumble prone.
Despite these two, rather glaring question marks, there are quite a few reasons for hope.
Junior Ryan Griffin is one of the nation's top TE's and should help whoever ends up under center.
Seniors OT Mike Ryan and C Mike Petrus will provide stability along the offensive line. They are among the best at their respective positions, which will be invaluable with inexperienced players at QB and RB.
DT Kendall Reyes is in the running for the Bronko Nagurski Trophy, which goes to the nation's best defensive player. If he continues to build on a solid 2010, he could be the kind of playmaker that a young defense can rally around.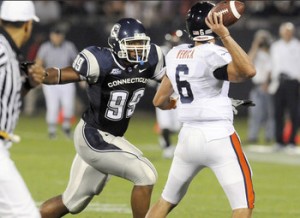 The Big East has proven to be unpredictable in the past, and this year should be no different. The UCONN Huskies have gotten used to a winning tradition the last few years, and I don't expect that to go fade away just because Randy Edsall isn't roaming the sidelines. There is something about competing, and winning, that rubs off on people. It's kind of like crack, or sex. Once you have a taste for it, you will do just about anything to make sure you can taste it again.
The Huskies will be a competitive team under Paul Pasqualoni, who brings the most wins in Big East history along with him, if a few pieces fall into place they could find themselves in a bowl game again this winter.
——Corey