Here are teams 1-12 in my 2011 NCAAF Pre Season Top 25
Click HERE if you missed 13-25
12) Ohio State.
THE Ohio State University used to be THE standard by which all other football programs were judged. Now that they are just another addition to the long line of back trackers, who only enforce the rules when it won't hurt the bottom line, I demand we make using that pompous 'THE' a finable offense. Like, for example, selling your golden pants. The fine can kick in a year later after the team receives millions in Sugar Bowl revenue. That seems fair right? Ranting aside, the Buckeyes are a still talented team, and if they can find a way to win at Miami, you know what? FUCK OHIO STATE, You have made me want to root for the U.  I will now drink bleach.
Key Early Season Matchup – Sept 17 at Miami
"I did not have sexual relations with that woman, Miss Lewinsky. I never told anybody to lie, not a single time; never. These allegations are false. And I need to go back to work for the American people. Thank you." Jim Tressel must have admired the blatant lie to the American people by former President Clinton, and that's why he duplicated it's sentiments to NCAA officials.
11) Wisconsin.
The Badgers return their top 2 RBs from the end of last year in Montee Ball and James White. If Wisconsin can fill the holes in the line left by Gabe Carimi and John Moffit, who will both be playing on Sundays, they should be right there with Ohio State battling for the Big Ten title. Bret Bilema replaced former defensive coordinator with Chris Ash and Charlie Patridge so it will be interesting to see how the defense responds. The return of Chris Borland will certainly be a big help, but they have to replace JJ Watt's pressure on the QB if they hope to make another trip to the Rose Bowl. The Badgers should be 4-0 going when they host Big Ten newcomer Nebraska on October 1st, a game that could decide their title hopes.
Key Early Season Matchup – Oct 1 Nebraska
"Give me 10 shots of well tequila." – Distraught Badgers fan after last year's Rose Bowl.
The Badgers have a rabid fan base that hate tipping bartenders, trust me. This has nothing to do with football, just thought you deserved to know.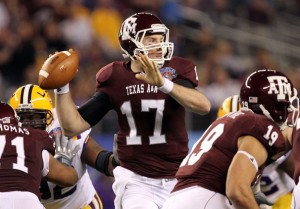 10) Texas A&M.
The Aggies return 19 starters, including QB Ryan Tannehill, who had a great second half in 2010. The offense should continue to improve under Mike Sherman, and the defense, in its second year running a 3-4, will surprise a lot of people. They play 8 of 11 games in the state of Texas, including early season matchups with Oklahoma State and Arkansas. The only tough road game on their schedule is a November 5th matchup with Oklahoma. A potential roadblock to a Big 12 Title run could be fatigue. The Aggies have their bye in the second week of the season and will play 11 weeks in a row, with the finale against rival Texas.
Key Early Season Matchup – Sept 24 Oklahoma State
"Give me an army of West Point graduates and I'll win a battle. Give me a handful of Texas Aggies, and I'll win the war." – General Patton.
The Aggies will need to win lots of battles to earn a chance to fight a BCS War.
9) Arkansas.
Ryan Mallett took his bong to the NFL, and his replacement Tyler Wilson, who shredded Auburn's defense last year, could pick up right where he left off. On the football field I mean, I haven't heard anything about Wilson inhaling or not inhaling. Knile Davis is one of the best tailbacks in the SEC and will look to improve on a 2010 that saw him gain over 1300 yds while rushing for 13 TDs. Too bad the Razorbacks play in a brutal SEC West that is also home to Alabama and LSU, otherwise they might have a shot at a BCS Title. At Alabama, at Texas A&M (basically a home game for the Aggies) and at LSU may prove to be too much for Arkansas to overcome.
Key Early Season Matchup – Sept 24 at Alabama
"Don't sell yourself short Judge, you're a tremendous slouch." – Ty Webb
Coach Bobby Petrino, like Judge Smails, is a tremendous slouch. But the man can run an offense better than almost anyone in the country.
8) Oklahoma State.
One of the most talented teams in the country on the offensive side of the ball, Oklahoma City is lead by QB Brandon Weeden and WR Justin Blackmon. Weeden threw for nearly 4300 yds and 34 TDs last year, while Blackmon established himself as one of the top WRs in the country. If the offense doesn't experience a drop off, with the departure of coordinator Dana Holgorsen, both could have monster seasons. 6 starters are gone from the 2010 team and with teams like Texas, Texas A&M, and Oklahoma on the schedule they will need to find a way to get stops.
Key Early Season Matchup – Sept 24th at Texas A&M
"Oklahoma State where the points come sweeping down the plain." – Creative License
The Cowboys offense will be fun to watch, but it remains to be seen if they can keep the opposing side out of the end zone.
7) Boise State.
Like Oregon, the Broncos are loaded on offense. They return their starting QB Kellen Moore and their starting RB Doug Martin so scoring points won't be an issue. The defense could be an Achilles heel with the loss of standout DE Ryan Winterswyck, but head coach Chris Peterson, one of the best young coaches in the country, has shown the ability to build opportunistic defenses. Boise State moved to the Mountain West in order to beef up their BCS resume. They also play Georgia in the season opener, a game that will go a long way in determining Boise's Title hopes.
Key Early Season Matchup – Sept 3 Georgia (in Georgia Dome)
"Here I go again on my own.." – Whitesnake.
The Broncos will once again embark down a lonely road toward a BCS game, and they are the only ones who truly believe they belong.
6) Florida State.
After a 10 win first season, Jimbo Fisher recruited the Number 1 class in the country. Combine that with a pudding soft schedule in 2011, they don't play Georgia Tech, North Carolina, or Virginia Tech, and if the 'Noles can find a way to beat Oklahoma on Sept 17th they could be in the running for a Title shot. Dual threat QB EJ Manuel should emerge as a star in the ACC this year. In last year's Chick-fil-a Bowl against South Carolina he went 11-14 for 84 yds and 1 TD, while rushing for 46 yds, in limited action. He reminds me of a new and improved Tyrod Taylor.
Key Early Season Matchup – Sept 17 Oklahoma
"So that's what opening up a can of whoop-ass feels like." – Bobby Boucher
The Seminoles may have forgotten the feeling, but they are on the verge of experiencing it again in 2011 against a weak ACC.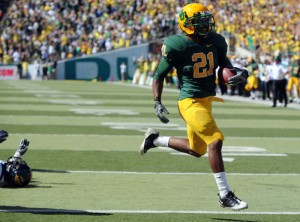 5) Oregon.
LaMichael James, Lache Seastrunk (Best Name Ever), and incoming freshman DeAnthony Thomas give the Ducks all sorts of weapons out of the backfield. Darron Thomas should continue to improve after a solid 2010, where he threw for over 2800 yards and 30 touchdowns, but will need to find some new targets after losing his top 2 WRs. If Oregon can rebuild an offensive line that lost three starters, they will be able to score enough points to play with anyone.
Key Early Season Matchup – Sept 3 Season Opener vs LSU (in Cowboys Stadium)
"Defense? We don't need no stinkin defense."
The Ducks lost a handful of starters on defense, but let's be honest, they will only go as far as their loaded offense can take them.
4) LSU.
The Tigers return 18 starters, 10 on offense and 8 on defense. The three departing members of last year's defense are CB Patrick Peterson, DT Drake Nevis and LB Kelvin Sheppherd. Those are some pretty big holes to fill but Les Miles always seems to field a top flight defense. The offense will be the key factor for LSU. If their new offensive coordinator Steve Kragthorpe, former head coach of a pass happy Louisville, can get some production out of the passing attack, watch out for the Tigers.
Key Early Season Matchup – Sept 3 Season Opener vs Oregon (in Cowboys Stadium)
"If you can keep your head when all about you are losing theirs and blaming it on you, If you can trust yourself when all men doubt you, But make allowance for their doubting too"…You'll be the man Les Miles.
3) Alabama.
Alabama emptied its talent barrel, losing Julio Jones, Marcel Dareus, and Mark Ingram, but Saban has shown the ability to reload quickly. Trent Richardson should excel in an expanded role in the offense now that he is not sharing the rock with Ingram. QB AJ McCarron could be a better passer than Greg McElroy, which will make the Tide even more dangerous. The defense loses a big time player in Dareus, but LB Don't'a Hightower and S Mark Barron returning from injuries should help Bama's defense get back to its National Title winning form.
Key Early Season Matchup – Sept 10 @ Penn State
"Don't talk too much, or too soon." – Bear Bryant.
The Tide were coasting last season, with talks of a National Title already being in the bag. Then a trip to South Carolina derailed their season. If they let their play do the talking they could be back in a BCS game in 2011.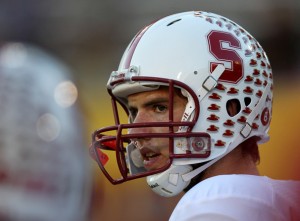 2) Stanford.
By returning to Stanford, Andrew Luck put the Cardinals right smack dab in the middle of a National Title conversation.  The transition from Jim Harbaugh to David Shaw shouldn't hurt Stanford's offense, since Shaw was the one running the offense last year.  They will have to replace several key offensive lineman, and how quickly they can come together will have a big impact on the Cardinals season.  With a favorable schedule, 7 home games including the Nov 12 battle royal with Oregon which could have National Title implications, Stanford has a shot to duplicate the success that earned them 11 wins last year.
Key Early Season Matchup – Sept 17 @ Arizona
"Luck is believing you're lucky." – Tennessee Williams
They are starting to believe they belong out there in Palo Alto, and with Heisman candidate Andrew Luck on their side, who can blame them.
1) Oklahoma.
The Sooners are almost always talented enough to be in the top 5. This year, with WR Ryan Broiles and LB Travis Lewis passing on the NFL, is no different. QB Landry Jones is evolving into one of the best passers in the nation under former QB Coach, and current Offensive Coordinator Josh Heupel. Heupel did a great job with Sam Bradford and if he has similar results with Jones, the Sooners will be tough to beat.
Key Early Season Matchup – Sept 17 @ Florida State
"There is nothing worse in this world then wasted talent" – Unknown
The Sooners have made a habit out of underachieving, and must heed the words of my good friend Unknown if they want to stay atop the rankings.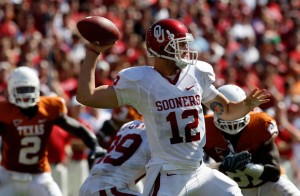 ——-Corey