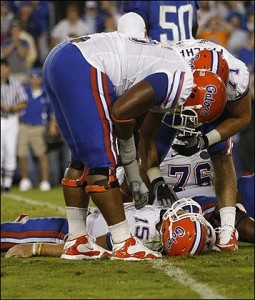 Well it's the second episode of my new feature. If you missed last week's installment, check it out here. For those of you unfamiliar with it, this is where I break down what we've learned about college football from the previous weekend's games. Let us begin.
If this past weekend in college football has taught us anything …
It's that after Tim Tebow went down, "concussion" replaced "early-bird special" as the most googled term in the state of Florida.
It's that the Big East has rallied back from preseason obscurity. I doubt you'll read about it anywhere but here, but they were 5-2 this weekend. Cincinnati cracked the top 10, South Florida took down Florida State, UConn embarrassed Rhode Island, and even Syracuse got in on the winning (hooray, Greg Paulus!).
It's that, despite popular belief, getting only 17 yards rushing will not win you games in the ACC. Yes, I'm talking about you, University of North Carolina.