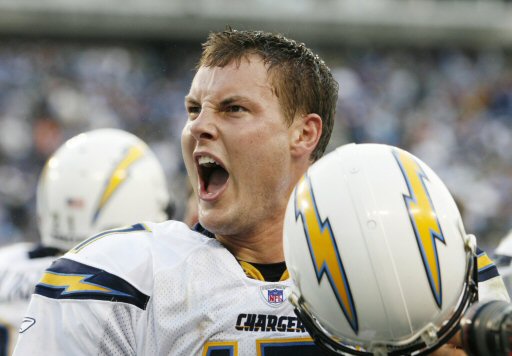 Fantasy football is socially acceptable stalking.
You spend hours studying players; where they're going, who they're going to be meeting when they get there, how they act, and what they might do next.  You start to feel like you know them better than they know themselves, and they have no idea that you're there, creeping in the bushes of the internet, watching.
Tonight is the start of a sixteen week stretch where the object of your obsession looks the other way, and even allows you to benefit from stalking them.  Tonight is when football leaves the window open while it's changing and lets us all watch.
I just made you feel dirty didn't I?
You're welcome.
Here is who I will be starting in Week 1.
QB – Phillip Rivers.  Not too many teams would cause me to sit Rivers, and Minnesota isn't one.
RB – Darren McFadden.  Going against the Broncos defense I would start Tiki Barber.  Wait, what do you mean no one picked him up?
WR – Miles Austin.  Even against a tough Jets D, and Darell Revis, I think Austin gets off to a fast start.
WR – Mike Williams.  He is the best WR on his team, and if there is a weakness on the Lions D it is in the secondary.
Flex –  RB Tim Hightower.  Starting Hightower over Felix Jones because, as high as I am on the Cowboys offense, starting two players against the Jets seems like too big a risk.
TE – Brandon Pettigrew.  Someone will be open when teams triple team Calvin Johnson, and Pettigrew proved he was a legitimate downfield threat last year.
D – Baltimore.  A Ravens/Steelers game is sure to feature at least a couple turnovers.
K – Neil Rackers.  Texans should put up a lot of points without Peyton Manning keeping them off the field.
Who Not To Start
Reggie Wayne.  Colts will try and run the ball against the Texans this week.  Wayne is good enough to get his without Manning, but if you have other options, use em.
Rashad Mendenhall.  Seems like he has one of those 18 carries for 55 yards games.
Mike Thomas (Jax WR).
Eli Manning.  Washington's secondary is one of the most underrated in football and Manning likes to spread the ball around, to the other team.
Sleepers
Ben Tate, Reggie Bush, Braylon Edwards, Lance Kendricks
On Monday I will look back and either eat a big greasy crow burrito, or brag about how much smarter I am than you.
—–Corey